If you own an Airbnb, our podcast is a great free resource to learn airbnb hosting for free.
What are the most important things to clean in an airbnb on a regular basis? This post will walk you through the airbnb cleaning process. Hopefully, the tips here will help you guide your airbnb cleaning service or help you set expectations. First, here are some tips that will help you score 5-star cleanliness reviews on Airbnb.
The Basics of Airbnb Cleaning for Beginners
First, do a walkthrough of the property to make sure nothing is broken or stolen. If anything is broken or stolen, report to the host or to Airbnb. Next, strip the beds and count the linens and towels to make sure there is nothing missing. If you find any lost and found, report it immediately to the last guest, they will appreciate it. If the cleaning is going to take longer than expected, let the host know or the next guest checking in if it interferes with their timing.
Wall to Wall Method
The wall to wall method means you must finish one room before moving to another. It helps to ensure nothing is missed or forgotten. Focus helps the cleaning go quicker and increases the quality of the clean itself.
How long does cleaning an airbnb take?
Cleaning an airbnb takes approximately 4-6 hours if the laundry is done onsite. With offsite laundry, the turnover cleaning team can be reduced to 2-3 hours. Condos can be cleaned in a little over an hour if laundry is prepared.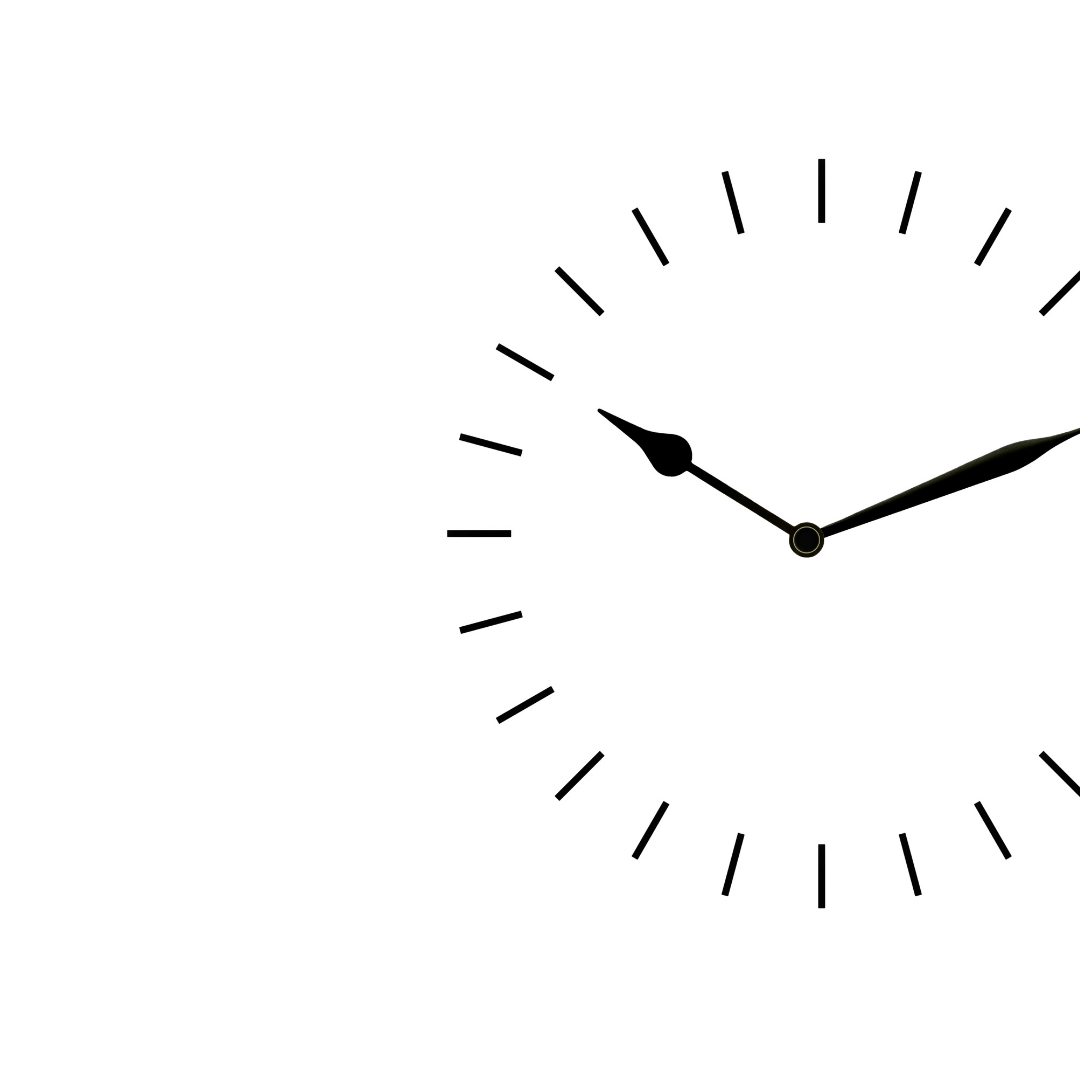 What supplies do you need to clean your Airbnb?
You need the right cleaning supplies to clean an airbnb. Do not go into the job unprepared!
Here are my airbnb cleaning supply recommendations: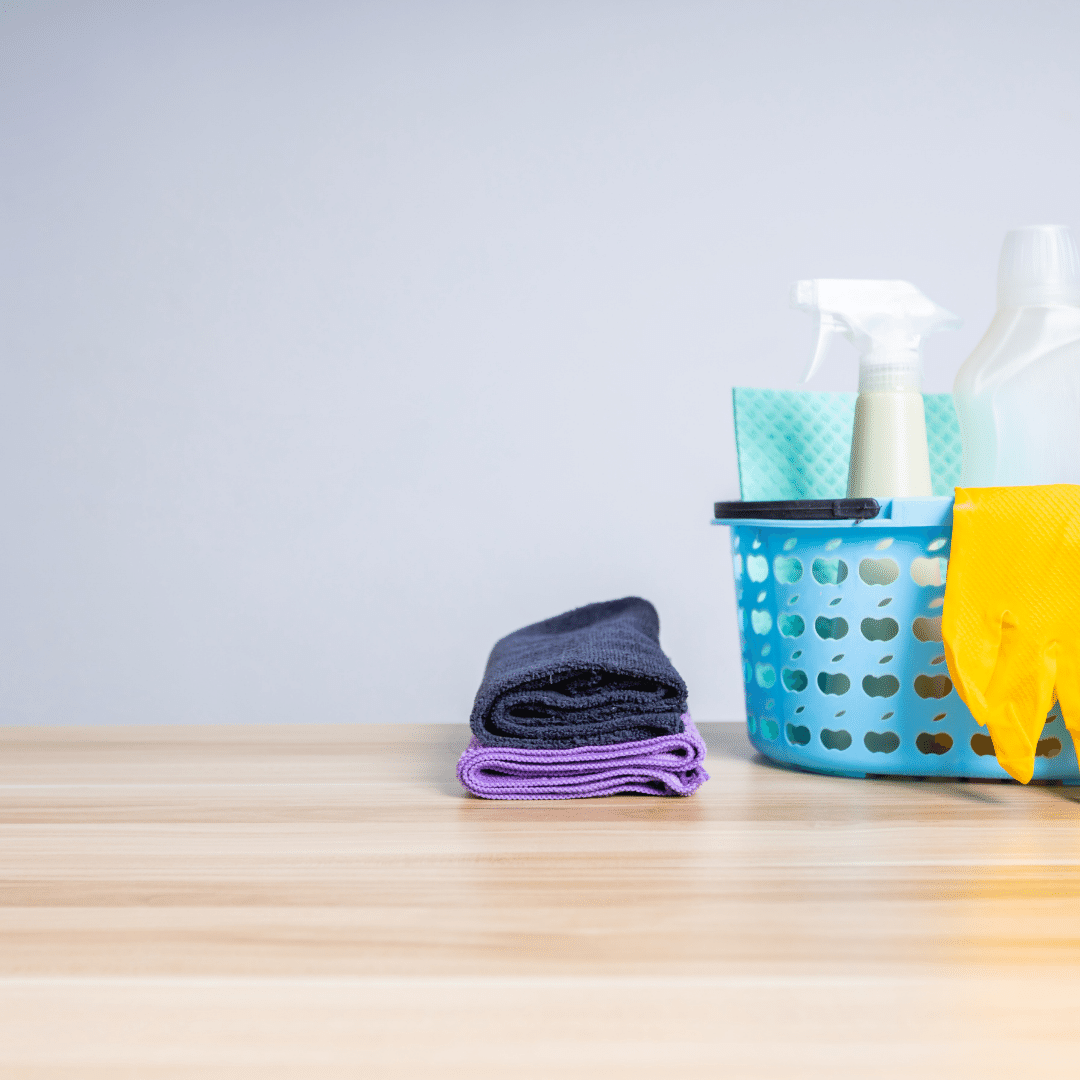 Your Airbnb Must Have a Clean Kitchen 
Most guests actually cook or reheat food while they stay in an airbnb. It is one of the main perks of renting a short-term rental. The refrigerator should be sanitized and wiped down. No leaks and no spills! To clean the kitchen of your Airbnb, perform the following tasks:
Wash and dry all dishes
Organize dishes in the kitchen cabinets
Check all dishes that were already cleaned, they may have been put back dirty by the guest or the previous cleaner
Clean the stovetop and oven
Clean the refrigerator, being careful not to miss any leaks and spills in the crevices
Check the odors of the freezer and refrigerator, place baking soda if necessary
Always check and clean the coffee maker and toaster, it is often missed
Any extras like crockpot and blender need to be cleaned
Shine the stainless steel
Place a new sponge and refill dish soap
Take out the trash, clean trash receptacles, and place new trash liners
Run garbage disposal and dishwasher
Clean the surfaces with correct chemical, shine granite, clean backsplash
Run your hand across the counter to make sure there is no left over debris
How to clean the bathroom of your Airbnb
Since your guests will be using the toilet and taking showers, you need to make sure when they are doing their business that they do not see anything gross like the lasts guest's public hair, a clogged drain, or toe nails – yuck! Here is the task list to clean the bathroom like a airbnb cleaning pro
Clean the toilet bowl, underlid, seat, and bottom of toilet. Do not forget behind the toilet as well.
Squeegee the mirrors and glass
Clean the tracks of the shower if any
The tubs and showers should be cleaned with bleach if the surface can handle bleach / Clorox.
Clean the grout lines with magic eraser – it works wonders on mildew
Vacuum or broom, then mop, then vacuum again the get out any hairs left

Making the beds in your Airbnb 
Clean beds are so inviting! First, make sure that everything is laundered. This includes the mattress pad, flat sheet, fitted sheet, pillow cases, and blanket. Make the bed tight, military or hotel style! Here is how to make the bed in an Airbnb:
Place the clean mattress pad first on the mattress
Put the fitted sheet on tight
Then, put the flat sheet on and quarter fold the top so it looks tight
Put the pillowcases and pillows on the bed neatly
Add the comforter or blanket on top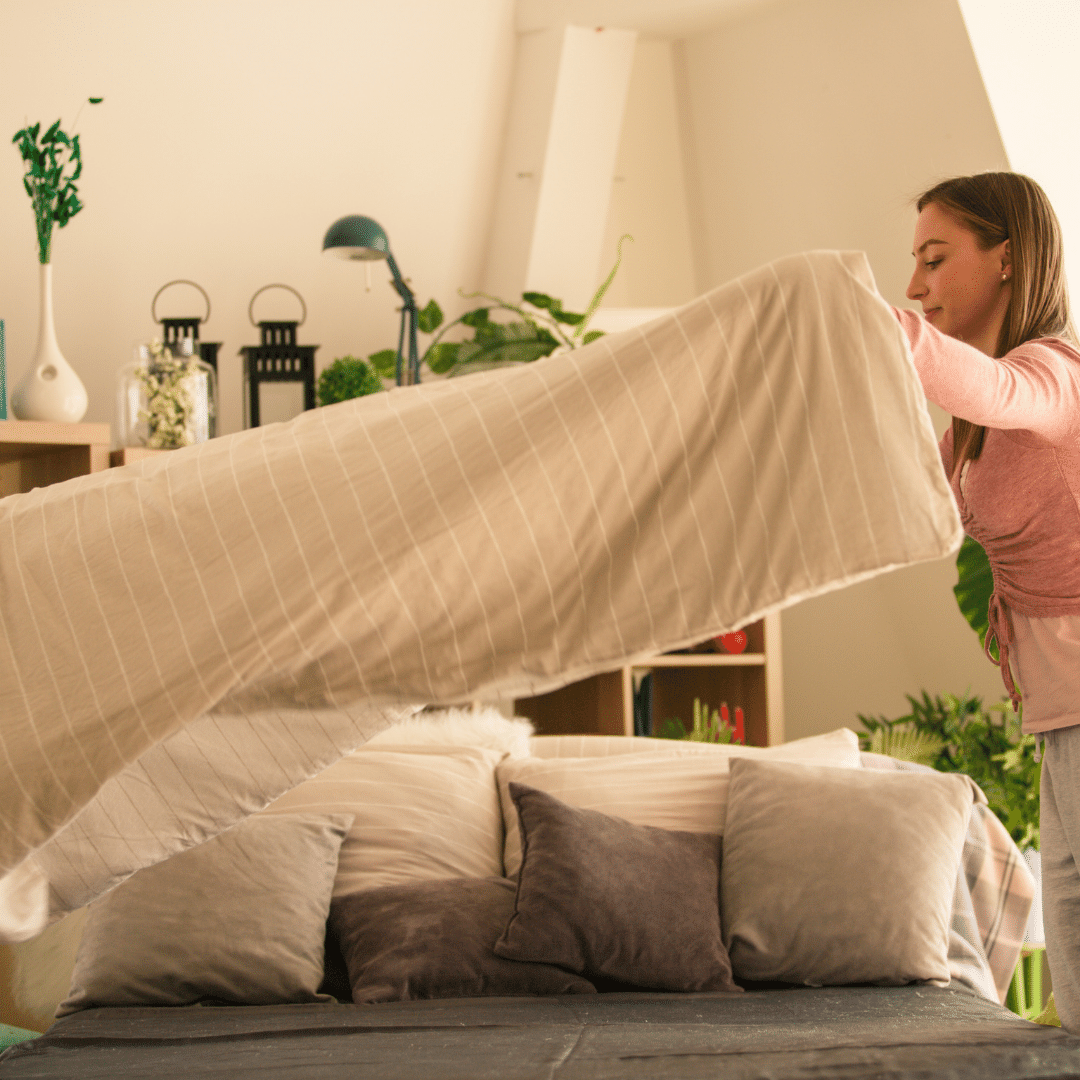 Doing the laundry in your airbnb
Laundry is super important since there is only so much time during a turnover cleaning. You can expect to wash 4-5 loads, so anything that cannot be completed in the washer and dryer should be laundered offsite. When first entering the property, your airbnb cleaners should strip the beds and start the laundry. Next, warm water wash what you can to rid the linens of dust mites. Also, linens must be sanitized to avoid bed bugs and dust mites.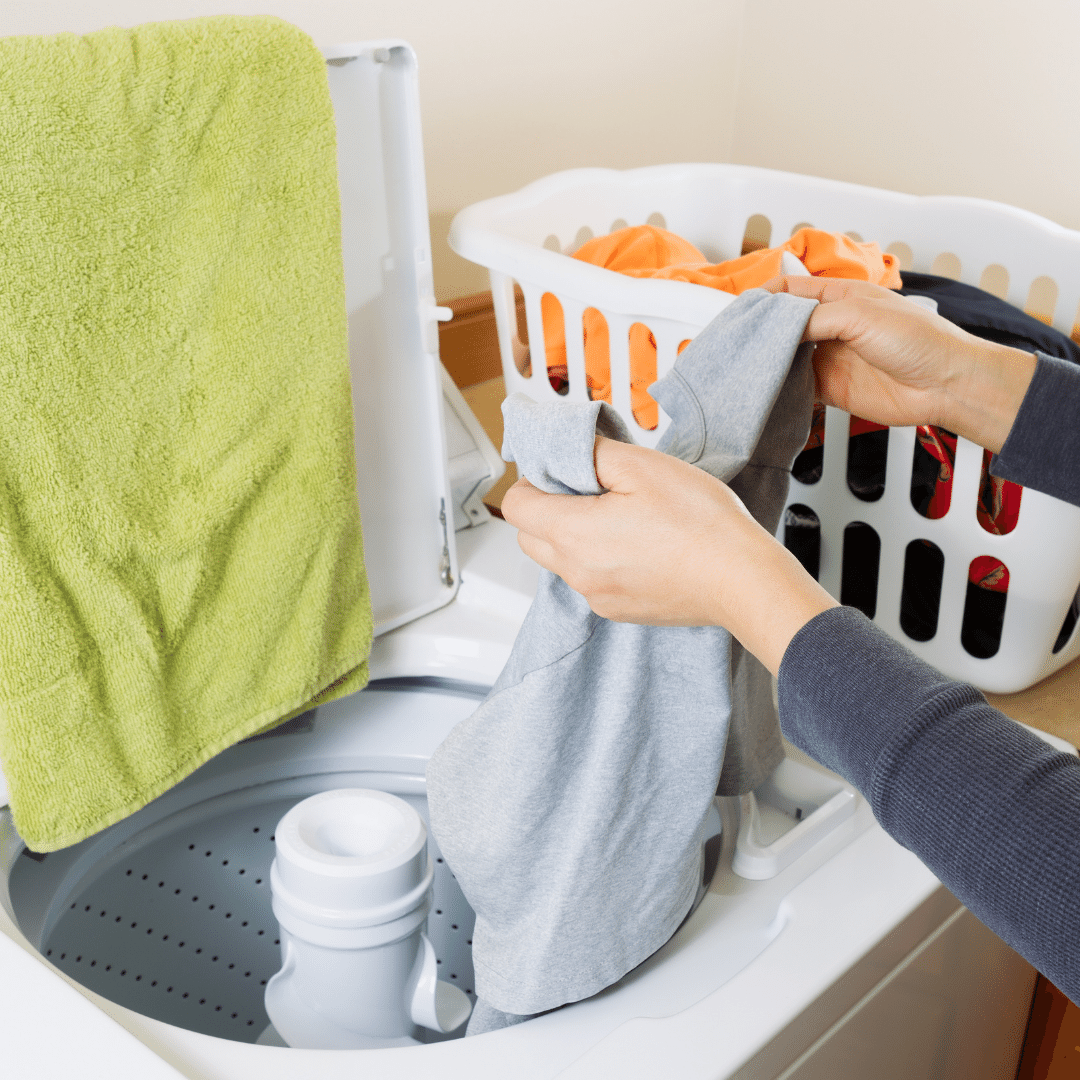 How Airbnb Cleaners Clean the Rooms
First, your vacation rental cleaning service should check the room.
Experienced airbnb cleaning services will check the entire room. Here is what your airbnb cleaner should check.
Under the bed
Under cabinets
In drawers
In the closet
The windowsills
Behind the doors
Beds that do not look used, they should be checked and washed
Check everywhere! Why? Guests sometimes find things (or report that they did for refunds…) in the above areas. If your airbnb cleaner can, ask them to take photos of areas they have checked to provide backup documentation in case of a cleanliness complaint from your airbnb guest.
Finally, after checking the room and making the beds, do the following:
Vacuum / mop the floors
Organize the closets
Stage the room for the next guest
How to clean the exterior and outside of your Airbnb 
Is the outside of your place clean? How is your landscaping (no weeds)? Are your windows clean from the outside as well? The outside windows are just as important as the inside of your airbnb.
The entryway of your home should not be cluttered and needs to be sparkling clean, this is your first impression and you want it to be an inviting one.
If you have a pool, it needs to be sparkling blue. If you have a deck, there can be no cigarette butts, hair, bandaids, or trash.
Trash must be removed and should not be in the trash bin or anywhere around the property, it will carry a smell and is a horrendous first impression.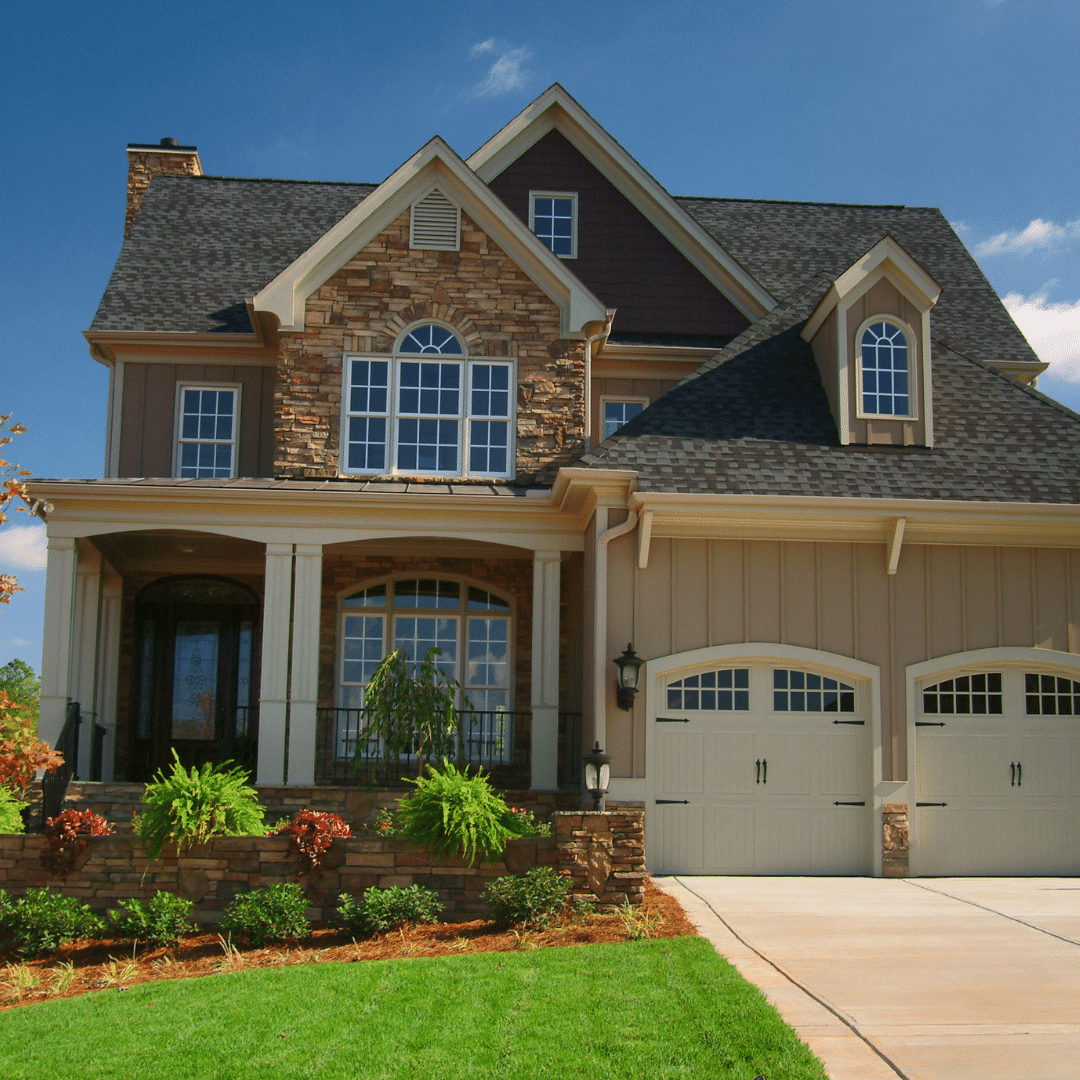 Cleaning the common areas in your short term rental
Remember, common areas must be staged and cleaned for check-in like no one has ever stood. This means the floors have to be mopped and vacuumed. Also, all surfaces, blinds, and curtains should be fresh and cleaned. Next, tables should not have food particles from previous guests. Even the remotes should be sanitized. Here are other areas to clean in your airbnb common areas:
Behind the TVs and the entertainment center
Clean all drawers and check underneath furniture
In the sofa and couch cushions, you would be surprised what you can find there
Tracks of sliding doors
The handles and door knobs
Any and all surfaces
Finally, floors, floors, floors – these are a major complaint when not cleaned correctly
How to inspect your Airbnb after cleaning
Don't forget, every vacation rental needs to be inspected. This is called the final walk-through. Here is how to inspect an airbnb:
Checking every dresser, drawer, closet, and under every bed to make sure nothing has been left behind by previous guests.
Inspecting the pantry and cabinets need to be checked for left behind food. All dishes must be clean.
Surfaces and floors must have no streaks, hand prints, or footprints.
Checking for hair. Pay special attention to the bathrooms for small hairs.
Want our free cleaning checklist in English, Spanish, and Portuguese?
Subscribe to our blog for more free templates, resources, tips, and hacks. Learn Airbnb for free with us.
Have a question or recommendation for a podcast episode?
Want to know more, need more help or have an idea for a podcast episode or blog article? Reach out to us at [email protected]. Join our owner community on facebook (we love to connect with other hosts!)
Listen to our latest podcast and subscribe on iTunes, Spotify, Amazon Music, Google Podcasts, and RSS. Please rate, review, and subscribe – all support helps us grow our community.
Are you in Florida and need a new airbnb cleaning service? Try vacationhomehelp.com so we can refer you to your new rockstar cleaning team and earn more 5-star reviews for cleanliness.
Leave us a comment! Have an idea for a podcast episode or blog article? Let's talk!