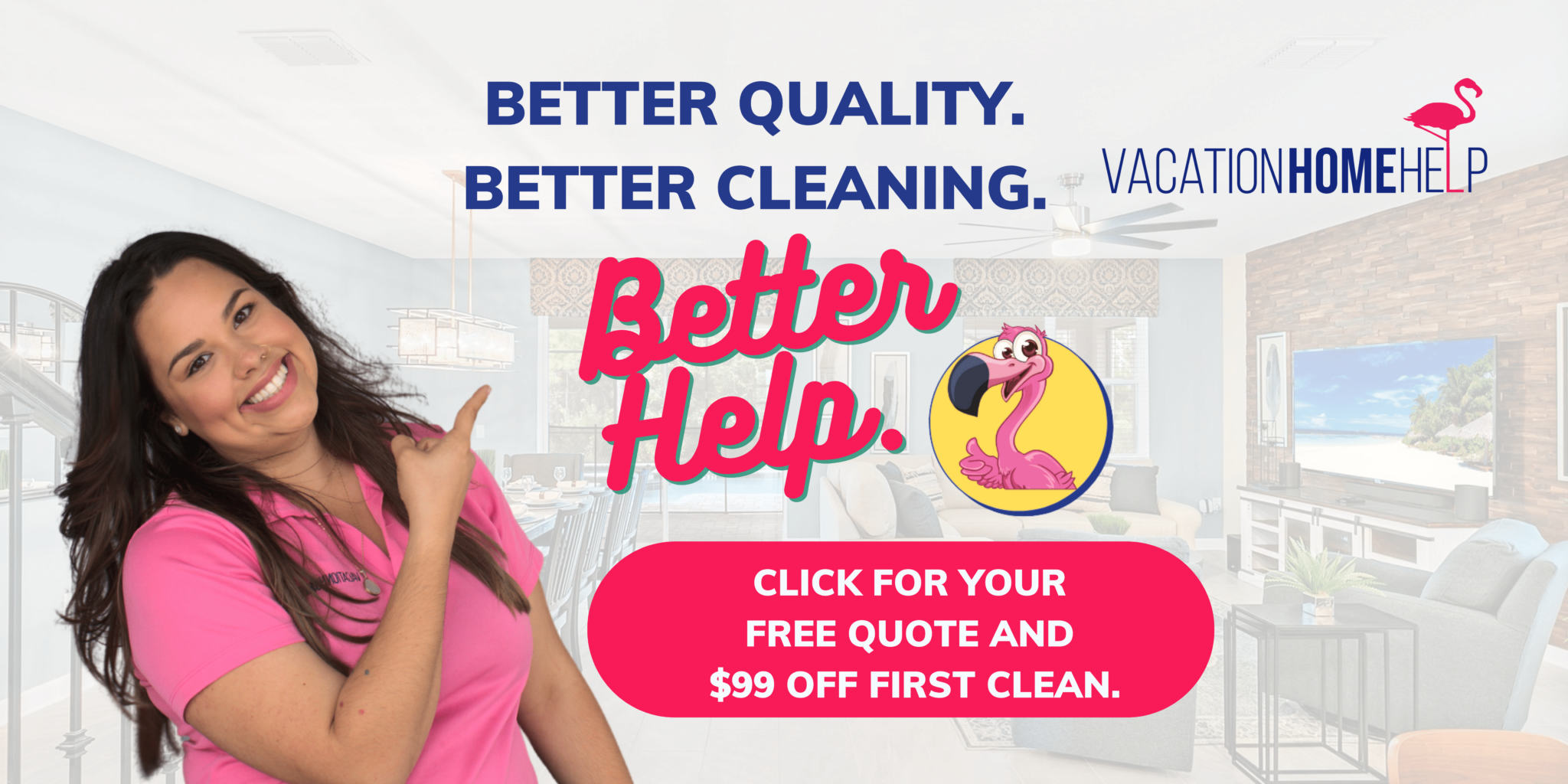 Best Airbnb Cleaning Service for Your Short Term Rental. Our Cleaning Will Help You Win Reviews and Reach Your Potential.
Schedule your Airbnb Cleaning in 60 Seconds. Finally, Airbnb cleaners who understand the needs of hosts and guests. Find Airbnb Cleaners in Orlando, Kissimmee, Davenport, and Clermont, Florida here. Rest assured, your vacation rental will be cleaned and sanitized. Our Airbnb Cleaners and disinfect following VRMA's COVID-19 cleaning guidelines.
You want your vacation rental to reach its full potential. You want high performance. You need high performing airbnb cleaning services.
You cannot afford to get bad reviews and lose rental income.
That is why you need a vacation rental cleaning service that means business.
Let's face it, Florida is not known for the quality of its contractors. On the contrary, it is so hard to find quality cleaning services. That's where we come in.
We believe that airbnb cleaning services should be:
Affordable
Reliable
Consistent
High Performing
You want great reviews, consistently. Vacation Home Help matches you with cleaners who have short term rental cleaning experience.
Want to improve your vacation rental with high performing cleaning services? Click on the button below for your free quote. You will speak to John, the company owner, who will provide you with a personalized estimate.
Airbnb Cleaning Services Dedicated to the Needs of Hosts and Guests
If you are renting your vacation property out on Airbnb, you need a high performing cleaning service. Housekeepers with Vacation Home Help follow a multi-point cleaning checklist to leave no stone unturned. We are reliable, timely, and trustworthy – just ask our hundreds of happy owners and property managers or our thousands of happy guests.
Our Airbnb Cleaners Clean & Disinfect, We Understand COVID-19
Clean and Sanitize Your Airbnb
Airbnb housekeeping using environmentally friendly, EPA-approved disinfectants.
Affordable Clean Fees
We track cleaning fee trends to keep your clean fee priced to the market. Guests will never overpay. Don't worry, you won't scare them away with your clean fee.
Schedule Airbnb Cleaning Online in 60 Seconds
Scheduling is easy. You will have your own portal. Automate your schedule, or manually enter bookings in seconds.
Damage Reporting
We report property damage as we see it and take photos for documentation to assist you in your claims.
Reasons Why Hosts Choose Our Airbnb Housekeepers


Win 5-Star Reviews
Airbnb Cleaning performed by pros. All cleaners have short-term rental experience.
Trained Airbnb Cleaners
All Airbnb cleaners have short-term experience and background checked.
Bonded & Insured
Cleaners on platform are bonded and insured.
How to Clean an Airbnb Property
Guests on Airbnb have high standards for cleanliness. After all, most guests are paying a cleaning fee. To automate your Airbnb cleaning, housekeepers on the Vacation Home Help platform follow a multi-point Airbnb cleaning checklist.
Here are some steps we take to clean airbnb properties in Florida:
Making the beds.
Cleaning and putting away the dishes.
Sweeping and mopping floors.
Vacuuming carpets and rugs.
Cleaning toilets, bathtubs, and showers.
Taking out the trash.
Wiping countertops, door handles, and light switches.
Checking for damages and reporting low inventory.
Reviews from our Airbnb Cleaning Services