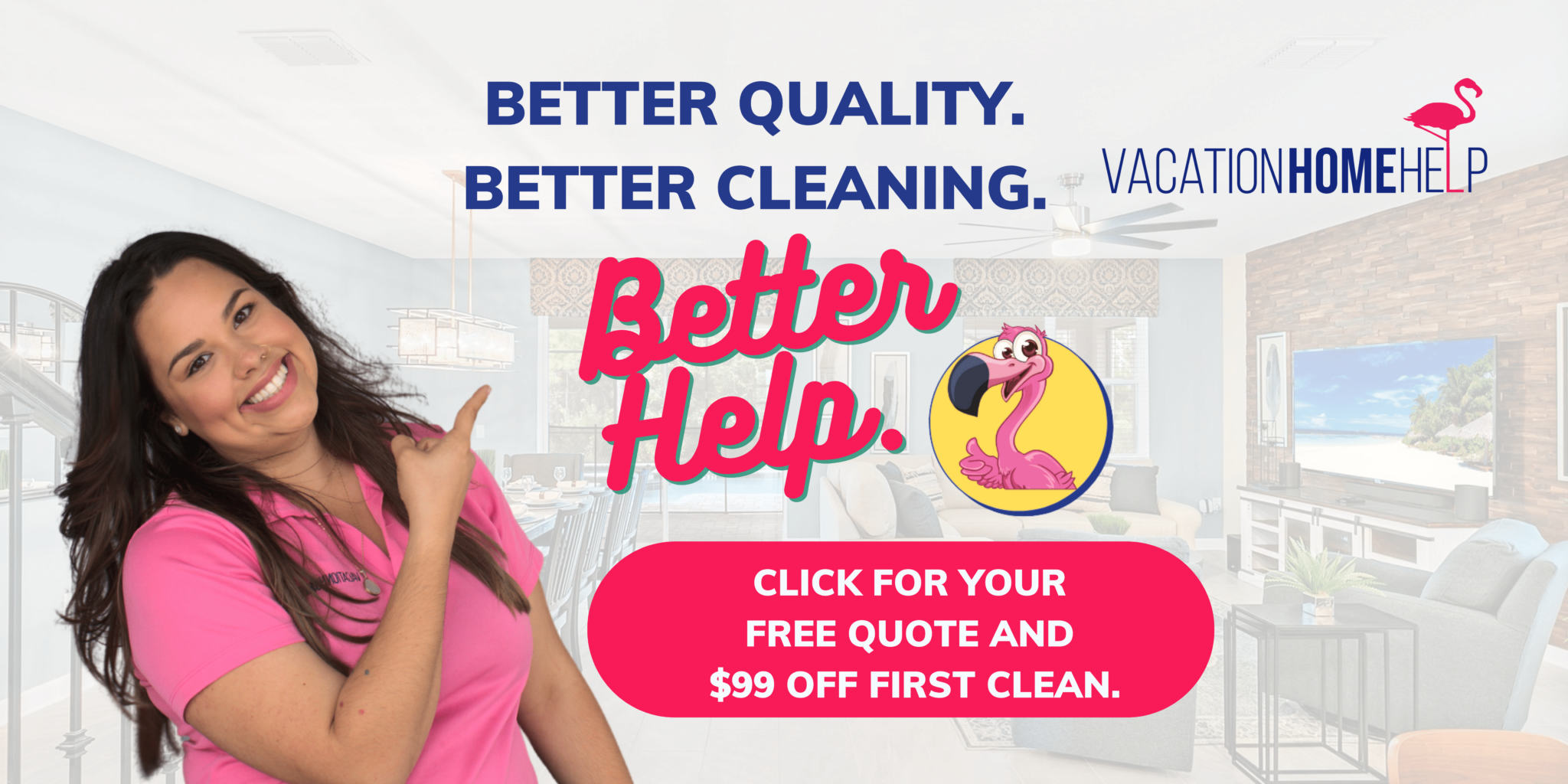 Best Airbnb Cleaning Service in Davenport
Airbnb cleaning in Davenport, FL is our specialty. Airbnb cleaners on the platform are solely dedicated to short-term rental cleaning. We have performed tens of thousands of appointments in Davenport, Kissimmee, Champions Gate, and Reunion Resort. Walt Disney World makes Central Florida a destination market for many tourists. Coupled with it being a great place for you to vacation, it makes sense you chose to invest in vacation rental property here…
Find the Best Airbnb Cleaners in Davenport, Florida
There are several Davenport vacation rental cleaning services. Some are large national franchises and some are small mom and pop shops. None of these companies solely focus and specialize in cleaning and sanitizing Davenport vacation homes. We do. If you are renting your Davenport vacation property out on Airbnb, you need a high performing cleaning service. Housekeepers with Vacation Home Help follow a multi-point cleaning checklist to leave no stone unturned. We are reliable, timely, and trustworthy – just ask our hundreds of happy owners and property managers or our thousands of happy guests.
Frequently Asked Questions about our Davenport, FL Airbnb Cleaning Services
How do I hire an Airbnb cleaner in Davenport, FL?
f you are interested in switching to a professional airbnb cleaning service in Davenport, FL or other areas in the Orlando area, we've got you covered. Benefits of having us in your corner include:
– Owned and operated by Floridians
– Fully insured and bonded
– Supplies & equipment provided
– Trusted & experienced cleaners
– Automated scheduling & billingBooking an airbnb cleaning service with us is a simple. We have made the platform as convenient and easy-to-use as possible so you can focus on expanding your business without disruptions or distractions. It enables you to automate your cleaning operations. Give us the basic details on your desired Airbnb cleaning service to get a fast estimate. Our service is both transparent and affordable. What cleaning supplies are need to clean an Airbnb?
Do not worry about cleaning supplies, our airbnb cleaners got you covered. We use eco-friendly products that are friendly to children, pets, and guests of all ages. We put your health and safety first when performing vacation rental cleaning services. Who offers high-performing Airbnb & vacation rental cleaning in Davenport, FL & the Orlando area?
We have a strong track record of reliable and quality short term rental and airbnb cleaning services in the Orlando area. Most of our rental cleanings are in Davenport, FL and Kissimmee, FL. Our client care team is always here to help you get your schedule automated. Airbnb cleaners use their own cleaning supplies and report damages.
No need to provide supplies to clean. You want to operate your Airbnb remotely so you can save time and avoid stress. We understand. We will let you know how your guests left the property each time. If there are damages or missing items, we will let you know. How many cleaning services can do that? We have successfully turned over 11,050 appointments in Davenport and are the most experienced short term rental cleaning service in the area. What is the price of airbnb cleaning services in Davenport, FL?
Your Airbnb cleaning fee will vary by the type of property you rent. The more rooms and beds, the higher your clean fee. We have a $125 minimum for smaller spaces. You can expect to pay an average of 8 cents a square foot. A 4 bedroom may be anywhere from $125-165 per cleaning, please contact us for a custom quote. What supplies or amenities are left for my Airbnb guests?
Our Davenport Airbnb cleaners leave the following for guests, you can leave more – but it may be additional in cost and is not included in your cleaning fee:
Toilet paper roll for each bathroom
Paper towel roll
Trash bags
Reasons why Davenport vacation home owners choose us as their Airbnb cleaners:



Win 5-Star Reviews
Housekeeping for Airbnb by pros. All cleaners have short-term rental experience.
Trained Airbnb Cleaners
All Davenport Airbnb cleaners have short-term experience and background checked.
Bonded & Insured
Vacation rental cleaners in Davenport, FL on platform are bonded and insured.
How to Clean a Davenport Airbnb Property
Guests on Airbnb have high standards for cleanliness. After all, most guests are paying a cleaning fee. To automate your Airbnb cleaning, housekeepers on the Vacation Home Help platform follow a multi-point Airbnb cleaning checklist.
Our Davenport Airbnb Cleaning Includes:
Making the beds.
Cleaning and putting away the dishes.
Sweeping and mopping floors.
Vacuuming carpets and rugs.
Cleaning toilets, bathtubs, and showers.
Taking out the trash.
Wiping countertops, door handles, and light switches.
Checking for damages and reporting low inventory.
Bedroom, Living Room & Common Areas
Make beds
Dust all accessible surfaces
Wipe down all mirrors and glass fixtures
Clean all floor surfaces
Take out garbage and recycling
Kitchen Cleaning
Dust all accessible surfaces
Empty sink and load up dishwasher with dirty dishes
Wipe down exterior of stove, oven and fridge
Clean all floor surfaces
Take out garbage and recycling
Bathroom Cleaning
Dust all accessible surfaces
Wipe down all mirrors and glass fixtures
Clean all floor surfaces
Take out garbage and recycling
Laundry & Extra Services
For a deeper clean, consider adding one or more cleaning extras. Most cleaning extras add one half hour of time and cost to your booking. Please see our service agreement for costs of extra services and laundry
Reviews
from Airbnb Guests in Davenport, FL…
Service Area
Davenport, FL
Abbey at West Haven
Aldea Reserve
Ashley Manor
Aylesbury
Bella Piazza
Bella Toscana
Bentley Oaks
Bella Trae
Briargrove
Bridgeford Crossing
Bridgewater at Town Centre
The Centre
Country Creek
Champions Gate
Crows Nest
Cypress Pointe Forest
Dales at West Haven
Davenport Lakes
The Estates
The Estates at Champions Gate
Fairways Lake
Florida Pines
Four Corners
Grand Reserve
The Groves
Hamlet at West Haven
Hampton Lakes
Hillcrest
Island Club West
Lake Davenport
Lake Wilson
Loma Del Sol
Loma Linda
Loma Vista
Manor at West Haven
The Manors North at Westridge
The Manors South At Westridge
Marbella
Oakpoint
Paradise Woods
Pines West
Pinewood Country Estates
Reserve at Town Center
Ridgewood Lakes
Robbins Rest
Royal Palms
Sanctuary at West Haven
Sandy Ridge
Santa Cruz
Shires at West Haven
Solana Resort
Sunridge Woods
Sunset Ridge
Thousand Oaks
Tivoli Manor
The Towns
Tuscan Hills
Tuscan Ridge
Village at Town Center
Vista Park
Vizcay
Wellington
West Haven
West Stonebridge
Westbury
Westridge
Wildflower Ridge
Windwood Bay
Windsor Island Resort