Best Airbnb Cleaning Service in Kissimmee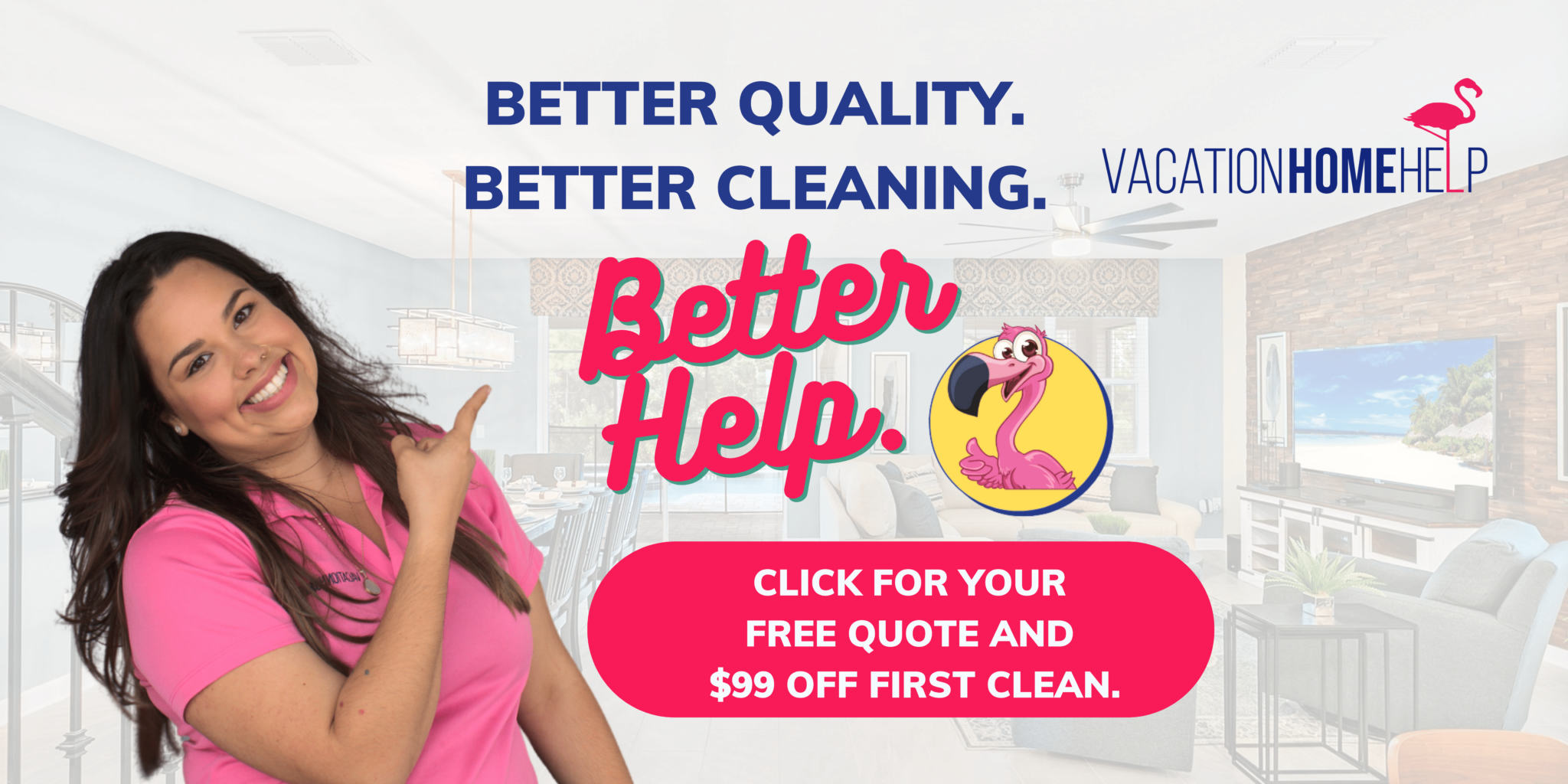 Need an Airbnb cleaning service in Kissimmee? Airbnb cleaning is our specialty. Find Airbnb Cleaners on the Flamingo platform that are solely dedicated to short-term rental cleaning. We have performed tens of thousands of appointments in Davenport, Kissimmee, Champions Gate, and Reunion Resort. Walt Disney World makes Central Florida a destination market for many tourists. Coupled with it being a great place for you to vacation, it makes sense you chose to invest in vacation rental property here…
Best Kissimmee House Cleaning Services
There are several Kissimmee house cleaning services. Some are large national franchises and some are small mom and pop shops. None of these companies solely focus and specialize in cleaning and sanitizing Kissimmee vacation homes. We do. If you are renting your Kissimmee vacation property out on Airbnb, you need a high performing cleaning service. Housekeepers with Vacation Home Help follow a multi-point cleaning checklist to leave no stone unturned. We are reliable, timely, and trustworthy – just ask our hundreds of happy owners and property managers or our thousands of happy guests.
Airbnb cleaners use their own cleaning supplies and report damages.
No need to provide supplies to clean. You want to operate your Airbnb remotely so you can save time and avoid stress. We understand. We will let you know how your guests left the property each time. If there are damages or missing items, we will let you know. How many cleaning services can do that? We have successfully turned over 11,050 appointments in Kissimmee and are the most experienced short term rental cleaning service in the area.
What supplies do you leave for guests?
Our Kissimmee Airbnb cleaners leave the following for guests, you can leave more – but it may be additional in cost and is not included in your cleaning fee:
Toilet paper roll for each bathroom
Paper towel roll
Soap bar each bathroom
Refill dish soap
Trash bags
Sanitation bands around the toilet seats
What is the price of your airbnb cleaning service per turnover?
Your Airbnb cleaning fee will vary by the type of property you rent. The more rooms and beds, the higher your clean fee. We have a $125 minimum for smaller spaces. You can expect to pay an average of 8 cents a square foot. A 4 bedroom may be anywhere from $145-195 per cleaning, please contact us for a custom quote.
Reasons why Kissimmee vacation home owners choose us as their Airbnb cleaners:



Win 5-Star Reviews
Housekeeping for Airbnb by pros. All Airbnb cleaners have short-term rental experience.
Trained Kissimmee Airbnb Cleaners
All Airbnb cleaners in Kissimmee have short-term experience and background checked.
Bonded & Insured
Cleaners on platform are bonded and insured.
How to Clean an Airbnb Property
Guests looking for a Kissimmee, FL Airbnb have high standards for cleanliness. After all, most guests are paying a cleaning fee. To automate your Airbnb cleaning, housekeepers on the Vacation Home Help platform follow a multi-point Airbnb cleaning checklist.
Airbnb Cleaning Includes:
Making the beds.
Cleaning and putting away the dishes.
Sweeping and mopping floors.
Vacuuming carpets and rugs.
Cleaning toilets, bathtubs, and showers.
Taking out the trash.
Wiping countertops, door handles, and light switches.
Checking for damages and reporting low inventory.
Bedroom, Living Room & Common Areas
Make beds
Dust all accessible surfaces
Wipe down all mirrors and glass fixtures
Clean all floor surfaces
Take out garbage and recycling
Kitchen Cleaning
Dust all accessible surfaces
Empty sink and load up dishwasher with dirty dishes
Wipe down exterior of stove, oven and fridge
Clean all floor surfaces
Take out garbage and recycling
Bathroom Cleaning
Dust all accessible surfaces
Wipe down all mirrors and glass fixtures
Clean all floor surfaces
Take out garbage and recycling
Laundry & Extra Services
For a deeper clean, consider adding one or more cleaning extras. Most cleaning extras add one half hour of time and cost to your booking. Please see our service agreement for costs of extra services and laundry
Reviews
from Airbnb Guests in Kissimmee…
Service Area
Kissimmee, FL
Acadia Estates
Bahama Bay II
Bass Lake Estates
Bay Pointe
Bellalago
Bellavida
Bridgewater
Brighton Lakes
Buenaventura Lakes
Cane Island
Caribe Cove
Chatham Park
Club Cortile
Compass Bay
Coopersmith Village
Coral Cay
Creekside
Crescent Lakes
Crestwynd Bay
Crystal Cove Resort
Cumbrian Lakes
Cypress Lakes
Doral Woods
Eagle Pointe
Encantada
Fiesta Key
Flora Ridge
Formosa Gardens
Gleneagles At Remington
Golden Oak At Walt Disney World
Grand Palms
Hamiltons Reserve
The Hamlets
Happy Trails
Heritage Key
Hidden Forest At Silver Creek
Indian Creek
Indian Point
Indian Ridge
Indian Wells
Isles Of Bellalago
Kissimmee Bay
Lake Berkley
Lake Marion Golf Resort
Liberty Village
Lindfields
Lucaya Village
Magic Landings
Montego Bay
Morgan Point
Oak Island Cove
Oak Island Harbor
Oakwater
Osprey Cove
Overoaks
Paradise Cay
Paradise Cove
Remington
Remington Pointe
Rolling Hills
Royal Palm Bay
Runaway Beach
Solivita
Somerset
Strafford Park
Sun Lake
Sunset Lakes
Sweetwater Club
Tuscany
Veranda Palms
Villa Sol
Villages At Mango Key Resort
Villas At Island Club
Villas At Laguna Bay
Villas At Secret Lake
Villas At Seven Dwarfs Lane
Villas At Somerset
Whispering Oaks
Windsor Park
Windward Cay