There is one secret you don't know standing between you and 5-star reviews. The secret? Airbnb welcome gifts. Being a Superhost means going above and beyond to please your guests. In this post, put these 12 easy airbnb welcome gift ideas into action. Win their hearts to earn 5-star reviews. Please share this post, subscribe, and comment below for a chance to receive a FREE welcome gift delivered to your home.
Airbnb Welcome Gift for a Family
First, this Airbnb welcome gift is called "Movie Night" To begin, purchase candy, popcorn, and sodas (not the healthiest, but they are on vacation) and place in a fun, popcorn themed basket. Best of all, this DIY gift idea can be done for $20-35. Not bad for a 5-star first impression.
Welcome Gift Idea for the Airbnb Couple
Next, let's address the Airbnb couple traveling on a romantic, stress-free getaway. What better to begin the night with than a bottle of wine and sweets?
Must Have Essential Supplies for Airbnb Guests
What supplies should I leave my airbnb guest? A common question, you must leave what Airbnb calls the essentials. However, you should not limit yourself to just the essential supplies, go above and beyond.
The essential amenities for Airbnb include: toilet paper, soap, one towel per guest, one pillow for guest, linens for each guest bed. This is not enough. For a five-star first impression, you should leave your airbnb guests the following extra supplies: makeup remover, shampoo, conditioner, body wash, lotion, napkins, extra toilet paper, hand towels, wash cloths, paper towel, body bar, toothpaste, dish soap, sponge, detergent pods.
Airbnb Welcome Packages are Fun and Tasty
Next up, cute Airbnb goodie bags! This easy Airbnb welcome gift DIY can be done by a quick trip to a local Hobby Lobby. Best of all, you can stuff these goodie bags with anything imaginable and your Airbnb guest will appreciate it. Don't forget, leave a bag for each guest and maybe an extra just in case.
Gourmet Welcome Pack Just for Airbnb Guests
Personalize your welcome offering for best results…
This chalkboard is under $20 and allows you to welcome your guests without buying thank you cards all the time. All you need is a tabletop chalkboard and some chalk markers. After all, the most important word in the dictionary is your name.
Greet your guests like a superhost…
More fun DIY ideas…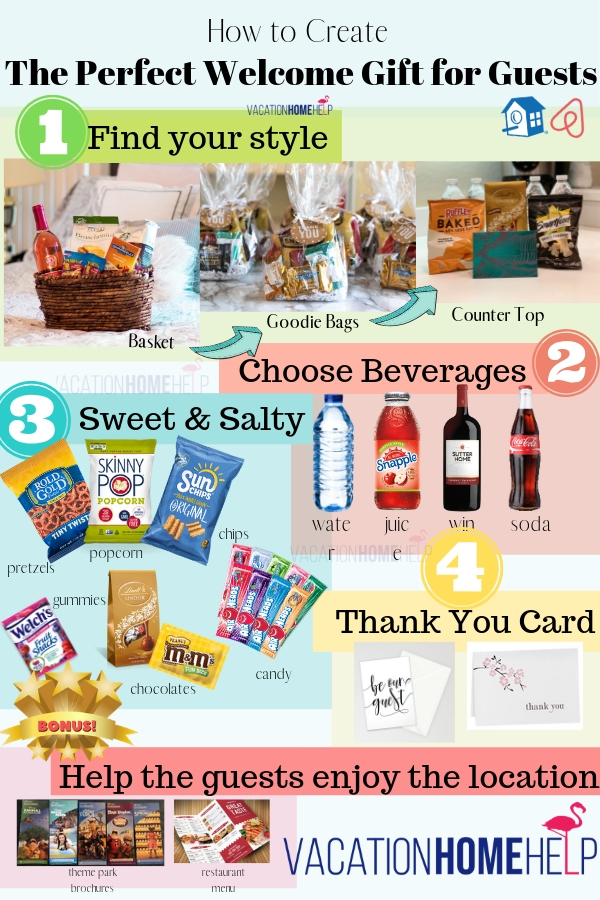 To conclude, I hope you enjoyed these Airbnb welcome gift ideas. Please, comment below with your thoughts and questions. Then, share this post and subscribe with your email below for a chance to win a FREE sample basket. Need more help or have a question? Contact a vacation rental success coordinator by clicking on this link. Please be sure to read our other posts for more FREE tips and hacks.