House Cleaning in Davenport, FL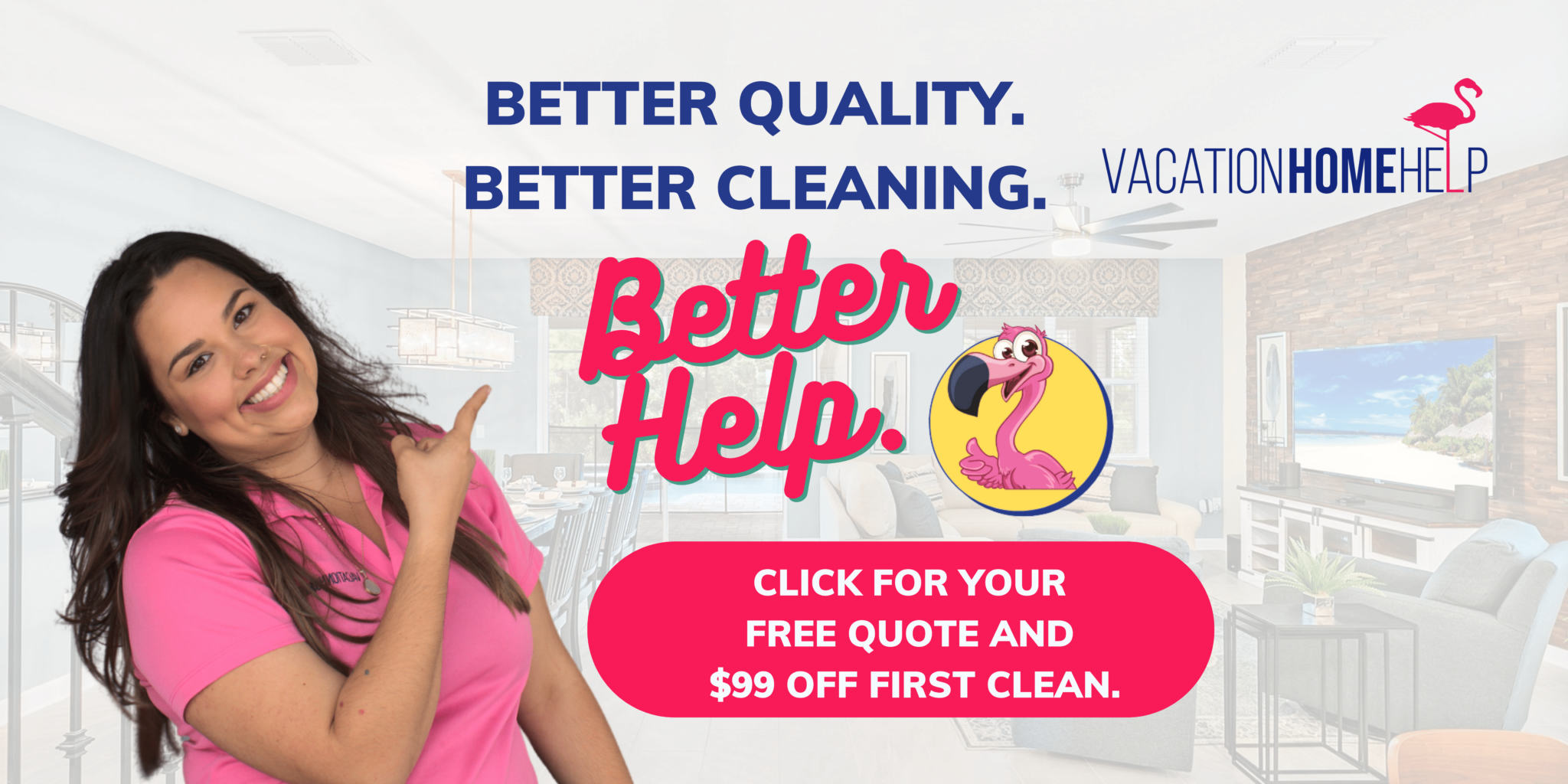 Davenport Vacation Rental Cleaning Services You Can Trust.
Looking for professional house cleaning services in Davenport, FL? We connect you with the best home cleaning professionals in Davenport as many of the house cleaners in our network live around Highway 27 and Champions Gate. Our aim is to make your life easier and give you more free time for leisure and relaxation. You'll never again have to ask yourself, "Who provides the best house cleaning in Davenport, FL?"
The professionals on the Flamingo platform have cleaned in every short-term rental resort in Davenport, FL. They're here to help keep their homes tidy and free up valuable spare time between guests. House cleaning and housekeeping professionals on Vacation Home Help are also very affordable and higher quality than many house cleaning services advertised by traditional cleaning companies. Why pay too much for your vacation rental cleaning services? At Vacation Home Help, we believe that everyone has the right to a clean, comfortable short-term rental. We connect you with cleaning experts that are affordable, with a service that's easy to book online or on your mobile device.
Service Area
Davenport, FL
Communities We Serve in Davenport, FL:
Abbey at West Haven
Aldea Reserve
Ashley Manor
Aylesbury
Bella Piazza
Bella Toscana
Bentley Oaks
Bella Trae
Briargrove
Bridgeford Crossing
Bridgewater at Town Centre
The Centre
Country Creek
Champions Gate
Crows Nest
Cypress Pointe Forest
Dales at West Haven
Davenport Lakes
The Estates
The Estates at Champions Gate
Fairways Lake
Florida Pines
Four Corners
Grand Reserve
The Groves
Hamlet at West Haven
Hampton Lakes
Hillcrest
Island Club West
Lake Davenport
Lake Wilson
Loma Del Sol
Loma Linda
Loma Vista
Manor at West Haven
The Manors North at Westridge
The Manors South At Westridge
Marbella
Oakpoint
Paradise Woods
Pines West
Pinewood Country Estates
Reserve at Town Center
Ridgewood Lakes
Robbins Rest
Royal Palms
Sanctuary at West Haven
Sandy Ridge
Santa Cruz
Shires at West Haven
Solana Resort
Sunridge Woods
Sunset Ridge
Thousand Oaks
Tivoli Manor
The Towns
Tuscan Hills
Tuscan Ridge
Village at Town Center
Vista Park
Vizcay
Wellington
West Haven
West Stonebridge
Westbury
Westridge
Wildflower Ridge
Windwood Bay
Windsor Island Resort
What are the advantages of using Vacation Home Help to when I need house cleaning for my Davenport vacation rental?
You can book your home cleaning ahead of time so you know exactly when your house cleaner will arrive. Just search for 'home cleaning near me' and connect with us. We'll match you with the right person for the job and even provide you with the Flamingo Guarantee. That means in the unlikely event that you're not happy with your home cleaning services, we'll work hard to make it right.
Secure payments for your turnaround cleans…
Another reason that millions choose Vacation Home Help for their home cleaning needs is that we offer a convenient and secure way to pay by credit or debit card, so you won't need to worry about paying your cleaner in cash on the day. We also recognize that life can be unpredictable and that you may need to reschedule a home cleaning from time to time. That's we make it easy for you to change your appointment time if you let us know at least 24 hours before the start-time of the original scheduled booking.
Licensed, Insured, & Experienced Cleaning Service – Focused on Airbnb & Vacation Rental Cleaning
All cleaners using the Vacation Home Help platform are vetted, so you can rest assured we're connecting you with the best service professionals. Their goal is to make your home spotless, so your guests can enjoy a cleaner, more comfortable space. To find the perfect home cleaner, just search for 'house cleaners near me' and choose Vacation Home Help.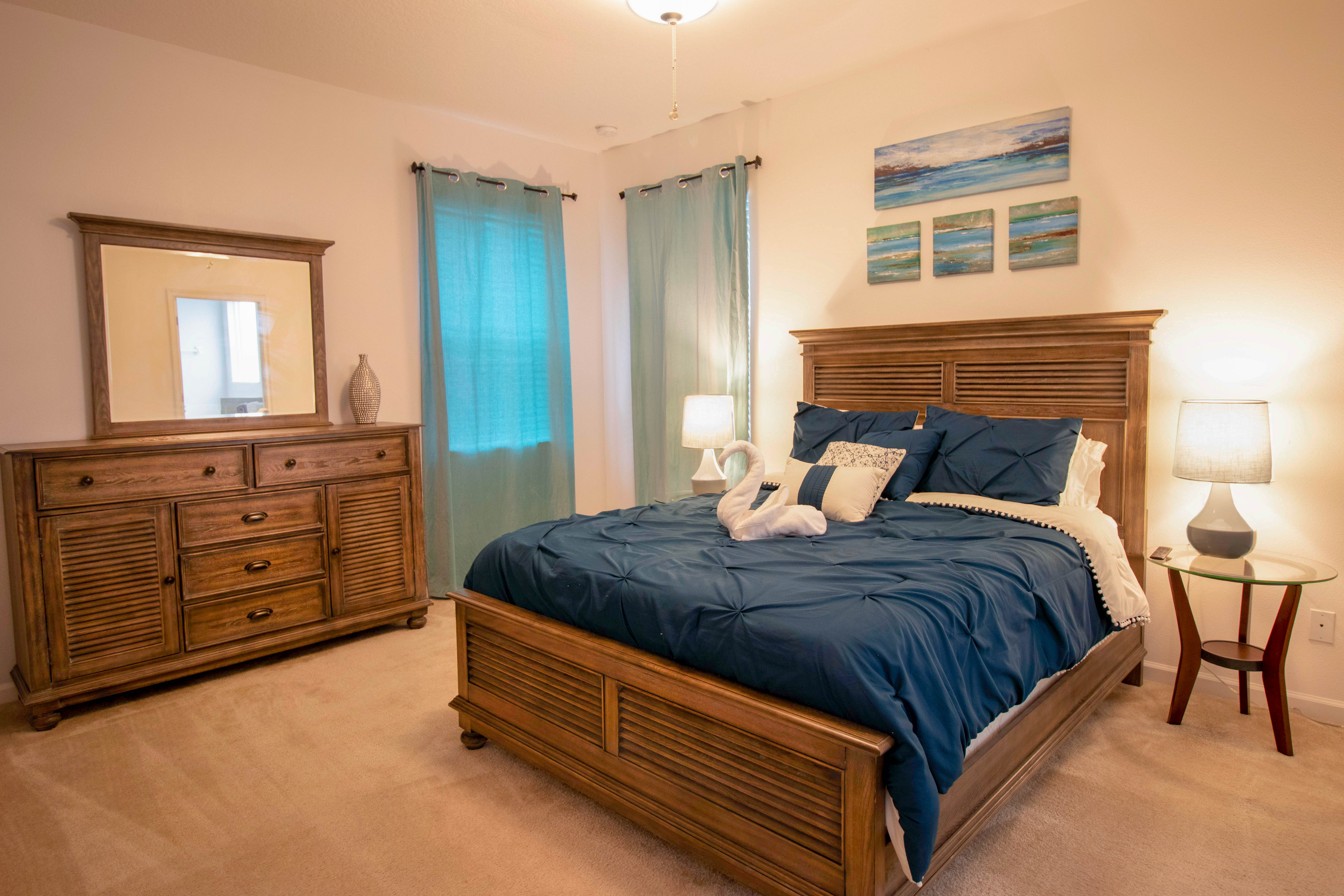 The number one cleaning service for airbnb hosts and vacation rental managers in Davenport, FL
Our team has performed thousands upon thousands of cleaning service for guests from around the world. We partner with several property managers, both national and local to both clean and maintain their properties between guests. We are very familiar with booking platforms such as Airbnb, HomeAway, VRBO, FlipKey, and Evolve Vacation Rental Network (we are an Evolve Service Partner).
Our footprint is in the Four Corners area and we service all of Davenport. We are familiar with properties at Champions Gate, Reunion Resort, Providence, Aviana, Sandy Ridge, The Shires at Westhaven, Solterra, Solara, Tuscana, Regal Palms, and several other resorts.
Cleaning Prices
Start at $125 per Departure Clean
Kitchen
Beds
Bathrooms
Floors
Check for Damages
Maintenance Plans
$149-249 per Month
Change AC Filter
Replace Bulbs
Unclog Drains
Change Batteries
& More…
Reviews
from Airbnb Guests…