Estimated reading time: 10 minutes
New hosts and property managers often wonder which Airbnb cancellation policy is best for their business. To make an informed decision, it's important to understand how each policy works before you start receiving bookings.
The Airbnb cancellation policy oversees booking cancellations for guests and hosts. There are several options available, each with its own terms and payout structure. Let's explore the different cancellation policies and find the one that suits your business best.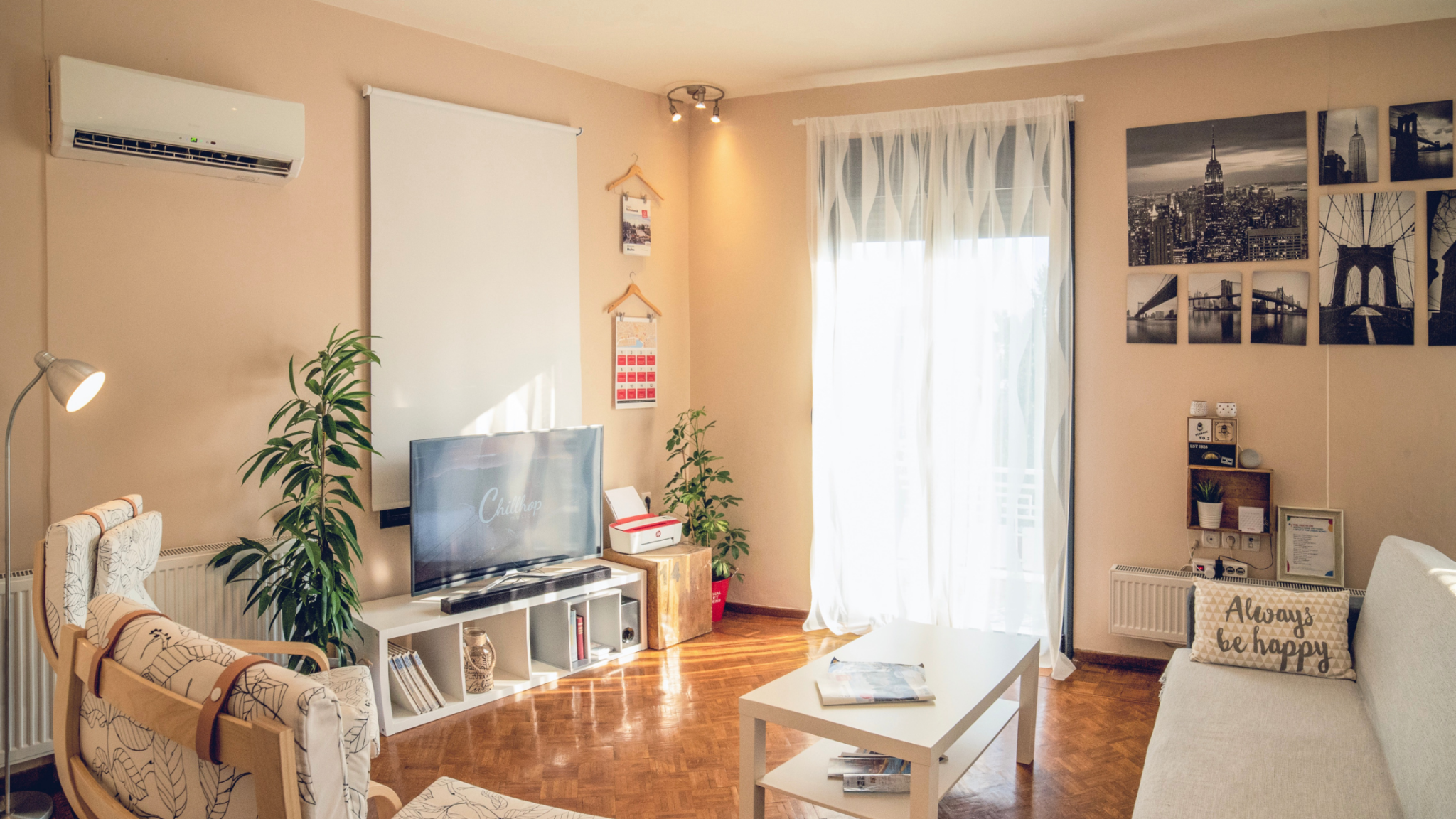 Here are the available Airbnb cancellation options:
Flexible
Moderate
Firm
Strict
Long-term (Strict and Flexible)
Super strict (30 Days)
Super strict (60 Days)
Let's take a closer look at the terms of each policy.
1. Flexible Policy
The Flexible cancellation policy is the most lenient for guests. They can receive a full refund by canceling at least 24 hours before check-in. However, if they cancel within 24 hours, they'll have to pay for the nights they stay plus an additional night. Guests can also get a full refund for any remaining nights if they decide to cancel after checking in. Pros of this policy include higher search engine rankings, potential for more bookings, and flexibility for guests. However, hosts bear the risk of cancellations and potential revenue loss.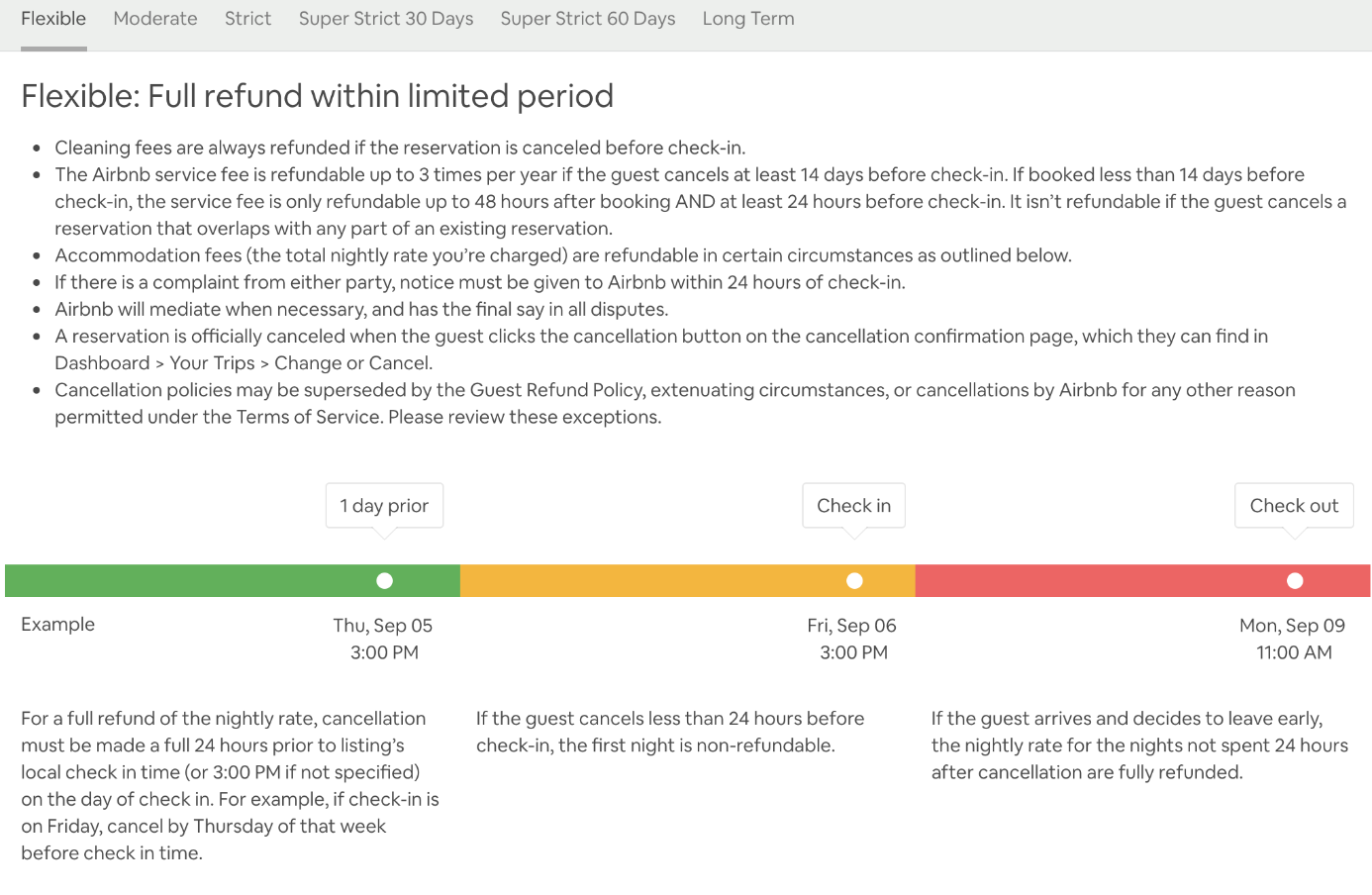 2. Moderate Policy
The Moderate cancellation policy is popular among hosts. Guests can receive a full refund of accommodation fees if they cancel at least 5 days before check-in. If they cancel within 5 days, they won't get a refund for the first night and the Airbnb service fee, and only 50% of the booking fees will be refunded. If a guest cancels after checking in, they'll receive a 50% refund for any remaining nights but still pay for the nights they spent. This policy offers more protection for hosts but still allows some flexibility for guests.
4. Firm Policy
Under the Firm cancellation policy, guests must cancel at least 30 days before check-in for a full refund. If they cancel between 7 and 30 days before check-in, they receive a 50% refund. However, if a guest cancels within 7 days of check-in, hosts are paid 100% for all nights booked. This policy strikes a balance between strict and flexible options, offering reasonable flexibility to guests while protecting hosts from last-minute cancellations.
5. Strict Policy
The Strict cancellation policy requires guests to cancel within 48 hours of booking and at least 14 days before the local check-in time to receive a full refund. After 48 hours, guests are entitled to a 50% refund regardless of the check-in date. If guests cancel between 7 and 14 days before the booking begins, they receive a 50% refund of accommodation fees but not the service fee. No refund is provided for cancellations made fewer than 7 days in advance. This policy minimizes the risk of revenue loss for hosts but may deter some guests from booking.
6. Long-term (Strict and Flexible)
The Long-term cancellation policy applies to reservations of 28 nights or longer. Under the strict long-term policy, guests must cancel within 48 hours of making the reservation and at least 28 days before check-in to receive a full refund. If guests cancel within 28 days or during their stay, hosts are paid 100% for all nights stayed plus 30 additional nights. The flexible long-term policy requires guests to give a 30-day notice of cancellation to receive a full refund.
7. Super Strict 30 Days
The Super Strict 30 Days policy is available to seasoned hosts by invitation only. Guests receive a 50% refund if they cancel at least 30 days before check-in. If they cancel when there are fewer than 30 days left until check-in, they forfeit the accommodation fees. No refund is given
Is the Airbnb Extenuating Circumstances Policy Still Around?
The Airbnb Extenuating Circumstances policy has been constantly reviewed due to the impact of the COVID-19 pandemic. However, starting from May 31, 2022, the host's cancellation policy will apply to both stays and Airbnb Experiences, except for domestic reservations in South Korea involving guests or hosts infected with COVID-19.
How to choose the right airbnb cancellation policy for your listing
When it comes to managing cancellations as a host, it can be a frustrating experience. Cancellations can leave you with little time to find a replacement guest and result in lost revenue. To minimize these risks and maximize your bookings, it is crucial to choose the right Airbnb cancellation policy for your listing. Here is a helpful link, directly from airbnb, to explain how to change your cancellation policy settings.
For most hosts, the recommended option is the Flexible cancellation policy. This policy prioritizes guests' needs by offering free cancellation. By selecting this policy, you demonstrate your willingness to accommodate guests, which increases the likelihood of bookings and improves your overall booking rate.
If you have attained Superhost status or have a significant number of bookings, the Moderate cancellation policy might be a suitable choice. This policy attracts more serious guests who are less likely to cancel at the last minute, providing a higher level of reliability.
Why the strict cancellation policy may scare away bookings…
Experienced hosts advise against using the Strict cancellation policy. Guests generally prefer flexibility, as their travel plans may change unexpectedly. Under the Strict policy, guests are not entitled to a full refund regardless of how far in advance they notify you of the cancellation. Therefore, opting for this policy is unlikely to help you maintain a consistently full calendar.
As an Airbnb host, it is essential to prioritize guest satisfaction and minimize cancellations. However, there may be circumstances where canceling a booking becomes unavoidable.
Cancellation Fees: Ensuring Accountability for Hosts
Starting from August 2022, Airbnb has implemented stricter cancellation fees for hosts who cancel unnecessarily. The fee structure is based on the timing of the cancellation and the number of recent cancellations made by the host:
If a reservation is canceled 48 hours or less before check-in or after check-in, the fee is 50% of the reservation amount for the nights not stayed.
If a reservation is canceled more than 48 hours but within 30 days before check-in, the fee is 25% of the reservation amount.
If a reservation is canceled more than 30 days before check-in, the fee is 10% of the reservation amount.
It is important to note that the cancellation fee is calculated based on the reservation amount, including the base rate, cleaning fee, and any pet fees, while excluding taxes and guest fees. Additionally, if the calculated cancellation fee falls below $50 USD, it will be adjusted to meet the minimum fee, and if it exceeds $1,000 USD, it will be adjusted to the maximum fee.
Implications of Cancellation: Financial and Future Bookings
Cancellation fees are typically deducted from the host's next payout(s) as outlined in the Payments Terms of Service. In addition to the fees specified in the policy, hosts who cancel or are responsible for a cancellation will not receive a payout for that particular reservation. If the payout has already been made, future payouts will be reduced accordingly.
Extenuating Circumstances: Exceptions for Host Cancellations
Under certain extenuating circumstances, hosts are permitted to cancel without incurring cancellation fees. These circumstances include:
Sudden changes to government travel requirements.
Government-declared emergencies, epidemics, and pandemics.
Travel restrictions imposed by a governmental agency that prevent or prohibit travel to or from the listing's location (excluding travel advisory warnings).
Military action or other hostilities.
Natural disasters.
Unauthorized parties or events.
Timely Cancellations: Consideration for Guest Adjustments
If you find yourself unable to fulfill a booking reservation, it is crucial to cancel in a timely manner to provide guests with ample time to adjust their plans. If you need to cancel within 24 hours of the check-in time, you will not have the option to cancel online and should reach out to Airbnb directly for assistance.
Airbnb Guest Refund Policy: Ensuring Your Peace of Mind
Eligibility for Refunds: Addressing Your Concerns
In conjunction with the Airbnb cancellation policy, the Airbnb refund policy plays a crucial role in safeguarding guests' interests. This policy clearly outlines the situations in which guests are eligible to receive a refund. Let's delve into these scenarios:
1. Inability to Access the Accommodation: Host's Responsibilities
Should a host cancel the booking within 24 hours of check-in, modify the reservation details without your consent, or fail to provide the necessary keys or access code for check-in, you may be entitled to a refund.
2. Incorrect or Inaccurate Listing Details: Transparency is Key
It is vital that the information provided in the listing description is accurate and comprehensive. If you encounter discrepancies regarding the property's size, location, number of bedrooms, amenities, or encounter non-functional or broken amenities and appliances, you may qualify for a refund.
3. Health and Safety Concerns: Prioritizing Your Well-being
Your safety and well-being are of utmost importance. If you find that the accommodation has not been adequately cleaned, poses health and safety hazards, or houses undisclosed pets or animals, you have grounds for a refund.
Claim Submission: Taking Action for Resolution
Should you encounter any of these situations, it is essential to promptly submit a claim to Airbnb within 24 hours. To strengthen your case, gather supporting evidence such as photos, videos, and other relevant documentation. Additionally, provide evidence demonstrating your attempts to contact the host and resolve the issue directly.
Airbnb's Review and Decision: Your Voice Heard
Upon receiving your claim, Airbnb will diligently review the evidence and information provided. They will then make a final decision regarding reimbursement or alternative accommodation. Rest assured that Airbnb will carefully consider your claim and respond with their decision.
By taking proactive steps and ensuring you have the necessary evidence and communication history, you can navigate the refund process effectively and seek a fair resolution. Your comfort and satisfaction as an Airbnb guest are paramount, and the refund policy exists to support you in case of unforeseen circumstances.
Conclusion
When it comes to selecting the most suitable cancellation policy for your Airbnb business, it is crucial to approach the decision with careful thought and consideration. The right policy can significantly impact your vacation rental business, ensuring a smooth and successful operation.
At Vacation Home Help, we understand the challenges faced by hosts like you. That's why we are here to assist you in scaling your vacation rental business effectively. Our comprehensive range of services includes not only free educational resources and consulting but also specialized Airbnb cleaning services.
With our assistance, you can confidently self-manage your vacation rental property, knowing that you have the support and expertise of Vacation Home Help behind you. From enhancing your knowledge about the industry to providing valuable insights and practical solutions, we are dedicated to helping you thrive in the competitive Airbnb marketplace.
So, whether you are a seasoned host or just starting out, rely on Vacation Home Help to guide you through the intricacies of the Airbnb ecosystem. With our combined resources and expertise, we are committed to empowering you to maximize your rental bookings, deliver exceptional guest experiences, and achieve long-term success in the vacation rental industry.
Choose Vacation Home Help as your trusted partner, and together, let's unlock the full potential of your Airbnb business. Check out our vacation rental podcast and learn how to grow, scale, and win.