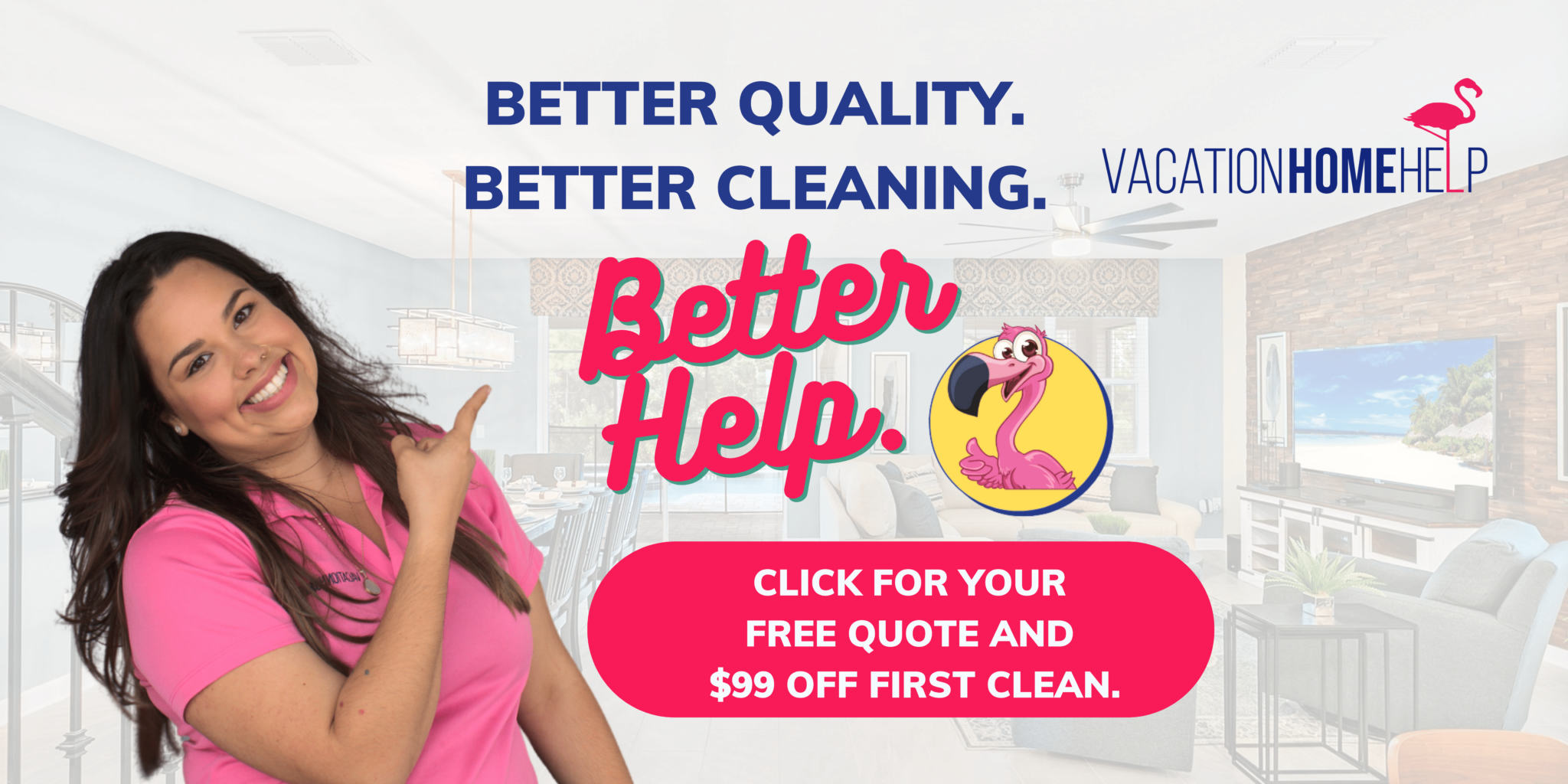 Best Vacation Home Cleaning Kissimmee
If you own a vacation rental or host an Airbnb in Kissimmee, FL you need a high performing house cleaning service. To earn 5-star reviews from your guests, align yourself with true professionals. We are the industry standard setter for vacation rental housekeeping.
Do you service Kissimmee property managers?
Yes! Our core customers are DIY vacation rental owners and professional vacation rental managers. We offer volume discounts if you offer a consistent cleaning schedule. Inquire about our property management volume discounts.
Kissimmee, Florida Cleaning Fees for Vacation Rentals
If you are pricing your Airbnb or vacation rental, or just wondering if your pricing is appropriate, just let us know. Our pricing is affordable, but by no means the areas least expensive cleaning service. After all, we believe quality has a price.
For example, a really expensive Airbnb is in no means going to give the impression of a Four Seasons Hotel room. If you hire the least expensive cleaning service, expect your guests to leave unhappy or disappointed. If you want to avoid rejection, disappointment, and win a 5-star review – hire a professional service to take care of your guests.
How much does Airbnb cleaning cost in Kissimmee?
Our minimum is $90, but quotes are always custom. There is no set cleaning fee, because every home's needs are entirely different. Our vacation rental cleaning checklist is the industry standard. All vacation rentals are cleaned using our multi-point checklist to leave no stone unturned.
Airbnb and Vacation Rental Cleaning Fee 101
Our pricing comes from an analysis of cleaning prices throughout all of the Kissimmee resorts. Our analysis takes a scientific approach to pricing your clean so it is accurate for you and your guests. We understand that guests are looking for a great deal and are relatively price conscious. We balance their expectations with reality, to create the first impression that will win reviews. Our cleaning prices are market – not the highest, and not the lowest. We price fairly.
Service Area
Kissimmee, FL

Acadia Estates
Bahama Bay II
Bass Lake Estates
Bay Pointe
Bellalago
Bellavida
Bridgewater
Brighton Lakes
Buenaventura Lakes
Cane Island
Caribe Cove
Chatham Park
Club Cortile
Compass Bay
Coopersmith Village
Coral Cay
Creekside
Crescent Lakes
Crestwynd Bay
Crystal Cove Resort
Cumbrian Lakes
Cypress Lakes
Doral Woods
Eagle Pointe
Encantada
Fiesta Key
Flora Ridge
Formosa Gardens
Gleneagles At Remington
Golden Oak At Walt Disney World
Grand Palms
Hamiltons Reserve
The Hamlets
Happy Trails
Heritage Key
Hidden Forest At Silver Creek
Indian Creek
Indian Point
Indian Ridge
Indian Wells
Isles Of Bellalago
Kissimmee Bay
Lake Berkley
Lake Marion Golf Resort
Liberty Village
Lindfields
Lucaya Village
Magic Landings
Montego Bay
Morgan Point
Oak Island Cove
Oak Island Harbor
Oakwater
Osprey Cove
Overoaks
Paradise Cay
Paradise Cove
Remington
Remington Pointe
Rolling Hills
Royal Palm Bay
Runaway Beach
Solivita
Somerset
Strafford Park
Sun Lake
Sunset Lakes
Sweetwater Club
Tuscany
Veranda Palms
Villa Sol
Villages At Mango Key Resort
Villas At Island Club
Villas At Laguna Bay
Villas At Secret Lake
Villas At Seven Dwarfs Lane
Villas At Somerset
Whispering Oaks
Windsor Park
Windward Cay
1
Request an Estimate
It's FREE.
2
We Will Contact You
Customized Quote.
3
Fast, Easy Sign Up
Clean Home, Always.
We are the housekeeping authority in the vacation rental industry. Reliable Kissimmee house cleaning services – we are Airbnb friendly too!
Reviews
from Airbnb Guests…