This post is for hosts looking for a pre-written AirBnB template to welcome guests by having a smooth check-in. Post includes a list of check-in instructions, answers to common check-in questions, and a sample welcome letter.
Having a welcome letter is a must...here is an AirBnB template
First, once you get a booking. Send this message:
Hey [Insert Guest Name],

You are probably getting excited about your trip to [ ], so I thought I'd touch base to fill you in on a few details before you arrive to help things along.

[Insert Address Here]

To make things easy and super flexible, you can access the property by using this code provided to you on check-in day. So whenever you arrive, you can let yourselves in and make yourselves at home (:

I've outlined some basic details below that should come in handy during your stay.

Check-In:

The scheduled check-in time is 4:00 pm on [insert date here] feel free to arrive anytime after that.

WiFi:

The Wifi Name:

WiFi Password:

I think that's about it for now, as I don't want to boxboard you with too much information. Most importantly, make yourselves at home and have a blast!

Speak soon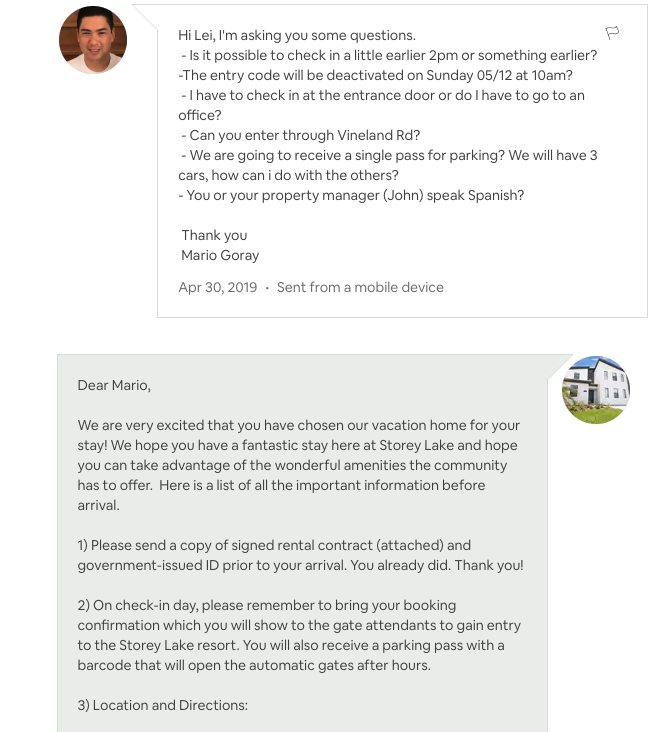 Next, 24-48 hours before your guest checks in, send them more complete information. Around this time, the guest wants to be ready to vacation and wants no questions left unanswered. Use this AirBnB template message and attach an electronic copy of your house manual:
Hi [Insert Guest Name],

I thought it'd be a good idea to send you a copy of the house manual. It's a good idea to give it a quick read through before you arrive just to make your check-in as smooth as possible.

Also, here's the code for the lock: [insert code here]

Here a few little details to help with your arrival:

[Explain details like netflix password, cable, internet speed, things to know about your house, etc]

If you have any more questions before your check-in time, just let me know. Hope you have an awesome stay!
Must have AirBnB check-in details for 5-star communication
Leave nothing to the imagination. Expectations must be set, so they can be exceeded. Here are a list of details to include:
Parking info
Pets policy
Heating and AC instructions
Ventilation fan instructions
Location of first aid and fire extinguisher as well as best exit to use emergency
Trash day and instructions to take out trash
Instructions for TV / Netflix / Hulu / Cable
Cleaning
House Quirks
Quiet Hours
Check-Out Instructions
Check-In and Check-Out Times
Is late check-out possible?
Did your guests check-in go smoothly? Ask.
So, your guests has checked in. What is a superhost to do? Check-in with your guest. The comfort of your guests is your number one priority. Use this AirBnB template message:
Good evening [Insert Guest Name],

Thanks so much for staying. I hope you have settled in alright and that you are enjoying your stay. Please let me know if there is anything you need or if I can assist you in any way.

Just a quick note to let you know, I strive for 5-star service. If there is anything not up to your standards in terms of cleanliness, amenities, or anything else, please reach out and give me a chance to make things right. I want to make your stay an enjoyable one.

Thank you.
Instructions for Check-Out Should be Clear and Effective.
Finally, the day has come for departure. You want your check-out process to be as smooth as your check-in process. You want your guests to have a seamless experience from start to finish! Winning 5-star reviews requires this attention to detail. Use this message:
Hello [Insert Guest Name],

I hope you had amazing stay in [Insert City Here]

Just a quick reminder tomorrow is check-out day [Insert Date Here]. Check-out time is at 11am. When you are ready to leave, please lock all doors and windows and shut off all of the lights. Please take out your trash upon departure. Thank you so much for choosing my place. Hope you have had an awesome trip. Thanks again. Please let me know if you have any questions.
Ask for AirBnB Reviews, don't be shy!
Ask and you shall receive! If you have a good feeling about this guest - request feedback. Did you know, listings with 5-star reviews increase your odds of appearing at top of search (Source: AirBnB) Use this AirBnB template message to request feedback:
Hi [Insert Guest Name],

You have been amazing. Thanks so much for being so respectful of our place during your stay, and thanks heaps for keeping the house so nice and tidy!

It is really appreciated!

Hope you had a ton of fun on your trip.

If you don't mind, I would love to ask you for a huge favor. Reviews and ratings have a huge impact on hosts as well as travelers. I was hoping I could ask you to possibly leave me a review, if you feel I deserved it. I will review you as a guest. I work very hard for 5 star reviews and I would appreciate it very much if you left me feedback about how I am doing. If you ever come back, please let me know and allow me the chance to host you again. If you ever have a suggestion on how to improve, please message me privately I would love to discuss your feedback in detail. I am constantly working to improve the experience for all of my guests. Thanks so much.
Need house rules or a wifi sign? Vacation Home Help aims to be the number one resource for AirBnB hosts and vacation rental owners by promoting empowerment, education, and turnover solutions. We believe with a rockstar housekeeper and an affordable local contact - you can achieve superhost status and turn your rental into a cash flow machine.