Estimated reading time: 19 minutes
Introduction
Airbnb slow season. Just thinking about that lower occupancy rate makes most hosts nervous…Don't fret, there are tons of ways to drum up more bookings during the slower months. The insights in this post come from my personal experience in the Disney World market (Central Florida), however many practices here can be safely applied to any short term rental market.
In my market, Disney World, it gets extremely slow when kids are preparing for finals, school dances, graduations, or heading back to school in the fall. The slowest months are usually February and September. How slow are we talking? Very slow, half or less than half the occupancy of regular months like August and October.
In the Orlando short term rental marketplace, , usually the busiest times are April and summer (June, July).
Preparation is key here. My several friends in the hosting game are all booked even in the slow season because they leverage a lot of strategies most hosts fail to follow. If you have a vacation rental property manager, you may be tired of the excuses "its slow this time of the year…" Well, to that my friends, I say 'ABC' —> 'Always be closing!'
Figure out what airbnb slow season actually is in your vacation rental market
First, you want to identify when your slow season is. "But John, I am reading this post because it's slow right now!" Well, let's start with the fundamentals.
How do you find out for sure what your seasons are?
Asking facebook groups, reddit, knowledgeable realtors and friends that have vacation rentals in the area is one way. Another way is to check property management websites in your location. You can usually pull up their calendars and see the nightly rates across different dates. The periods that are the cheapest, that is slow seasons. Medium price would be normal season. Highest prices would be high and peak seasons…and so on.
A more straightforward approach would be to use the services of a company like AirDNA, AllTheRooms, or PriceLabs. For a fee, they provide research on the occupancy rates and average daily rates per season (plus a ton of other helpful statistics too!)
I, however, opt for the free way 99% of the time. After all, a penny saved is a penny earned. I would start off by asking around and running comparables analysis on your neighbors, checking property management websites, and facebook groups.
Find out who your ideal low season guest is
Who is your ideal guest during low season? To answer this question, we start with our past experience. During your last slow season, who were your guests? Did you have couples looking for a romantic getaway? Digital nomads? Maybe sports teams coming into town for an annual competition?
One particular guest from Manchester, United Kingdom always travels with their buddies for a golf trip at the same time in September every year. He loves the quietness of September and hates crowds, so the slow season is perfect for his golf trips. They use maybe half of the rooms in the entire space, use the pool, and book directly without the use of a platform, although the first time booking was on VRBO.
Who is your ideal slow season guest? Common questions to ask and things to consider:
Age of your guests
Area traveling from
Reason for travel
Occupation
How many guests per booking?
Amenities used?
What platform did your guests book on?
See your past to find your future. Leverage your data. There is money in the data.
Optimize your airbnb and vrbo listings for low season and beyond
Your listings probably look great, but there is always room for improvement, right? Let's define optimization. Optimization is the action of making the best use of a particular resource. In this case, we want to leverage our platforms by making sure our listings have as complete and accurate information as humanly possible. We want to do this not only for the airbnb and vrbo algorithms, but also for the human touch. Remember, although we are in the age of freaky artificial intelligence, the decision maker here is a real-life human being. That means the listing needs to actually help your future potential guest (FPG) make a decision.
Completing and optimizing your airbnb listing includes such steps as:
Making sure all of your amenities and features are included (the algo actually requires amenities like wifi to classify as a 'business-ready' listing

For wifi, make sure you are listing as internet and wifi, not just one or the other
Add TV (business-ready requirement) (does not really help rankings too much though)

Add 'self check-in' information (around Guest Resource —> Directions)
Enable instant-booking
Fill out your host profile (add your picture, a little bit about yourself!) this creates trust. Afterall, who wants to book with a stranger? You can include facts about your hobbies and career (as long as appropriate)

Add languages you speak – big plus here
Verify your identity with government identification

Revisit photography. If you photos are not that great, let's be honest they are probably harming your chances of getting quality bookings and this should be redone (happy to critique your photos, just comment below!)
Rewrite your title and listing description using keywords for SEO (search engine optimization) – if you are new to this topic I will post more in depth articles explaining how you can leverage this – but using keywords correctly directly correlates with uptick in searches and bookings

Add in 'search terms and suggestions' near the top of your listing (5 mi. From Disney World, 8 mi. From SeaWorld, 20 mi. From Downtown Orlando) – this helps tremendously with search engine traffic
Research the top phrases your competitors use as as starting point

Include a clear call to action at the bottom of the description (Sit back and relax by the pool on your next trip, we would love to host you…book now.)
Make it readable by breaking up the text with headings in each section (Intro, Living Space, Bedroom Setup, Bathrooms, Fun Things to Do, Parking)
What should my minimum night stay be on Airbnb?
For Airbnb and VRBO, I highly recommend weighing the size of your rental and the groups it attracts with the need for occupancy during times of slow demand. While this sounds like a mouthful, you can change the minimum night stay requirements by season.
At the time of this writing (May 2023), the economy is going through some weirdness. Banking crisis, housing issues, interest rates, inflation…the list goes on and on. Guests have less money to spend on vacation and most bookings are happening on impulse and extremely last minute (my calendars are double booked at the end of the month as when the month began). For occupancy, it works to take a less conservative approach with the minimum night stay if you desire more occupancy.
My recommendations follow my experience. In my years doing this, I have seen larger homes get absolutely trashed by guests during spring break and holidays. We are talking…trashed. Smoke smell, diapers on the floor, you name it – nasty.
Weekend parties usually are to blame. If you have a condo, condotel, or 1 / 2 bedroom rental you can get by on doing one or two night minimum stays (more like a hotel operation) if your nightly rate is higher than your clean fee. You do not want to operate in the red just to pay your airbnb cleaner…If the math makes sense, I have seen people with very profitable condos at 1 night minimum.
Larger homes require a more conservative approach. I do not even recommend same day bookings here. A lot of hosts are for lack of a better term, aggressive – if not downright delusional. They believe a 9 bedroom can be flipped in 5 hours with a residential washer and dryer and no offsite laundry. Because we live in the real world, we understand that laundry takes time and properly cleaning and sanitizing a rental needs a gap day when the rental property is particularly large.
As a rule of conservatism, if you have a home larger than 6 bedrooms and you do not have off site laundry or an extra dryer you should not be doing same day bookings. There really should be a gap day between stays because you do not know if the guest checking out was a smoker, brought a pet they were not supposed to, or broke something mission critical.
Avoid anxiety. With larger homes if the linens are not ready to go upon checkout, leave a gap day for cleaning.
Here are my 2023 minimum night stay recommendations:
Minimum night stay recommendation for condos and 1 or 2 bedrooms
Low season: 1 or 2 night minimum
Mid season: 1 or 2 night minimum
High season: 4 night minimum
Peak season: 6 night minimum
75% Occupancy, Single Family Home
Low season: 4 night minimum
Mid season: 4 night minimum
High season: 5 night minimum
Peak season: 7 night minimum
Minimum night stay recommendation for single family short term rental
Low season: 3 night minimum
Mid season: 3 night minimum
High season: 4 night minimum
Peak season: 5 night minimum
Adjust Advance Notice Requirement
So, the advance notice requirement on Airbnb. What is it?
This is a setting on Airbnb you can control to avoid last-minute bookings. You can set both the advance notice and the preparation time between bookings. By doing this, Airbnb will block these dates from your calendar.
When it is extremely slow and you want to ramp up bookings, it may be in your best interest to remove this advance notice and allow last minute bookings. In 2023, many bookings have been coming at extremely last minute. In the past (prior to the pandemic), hosts were way more conservative and did not want any last minute bookings, being fearful of parties (rightly so). However, to boost occupancy, you may want to take a more aggressive approach and this is how you can do so.
Here is an example of what it looks like and a link to step by step instructions on how to change your advance notice settings:
Here is a link directly from Airbnb on how to change your advance notice settings
How to change your advance notice settings on airbnb
This is what one night advance notice will look like on your airbnb calendar: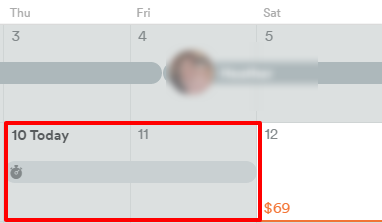 This is what two night advance notice will look like on your airbnb calendar: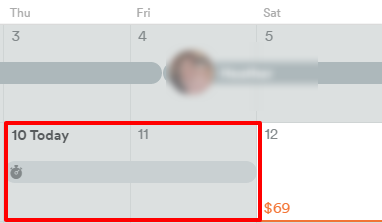 Reducing Your Nightly Rates on Airbnb to Attract Bookings
Supply and demand, very real forces, hit harder in slow seasons than when times are great. Airbnb lately has been prioritizing affordability in their search results. The platform wants to incentivize booking decisions and being cheaper drives results for them.
For hosts with premium, luxurious, or expensive listings this may be a tough pill to swallow. If your occupancy is below 50-60% and your market's occupancy is higher than that, it may be time to consider reducing your rates to attract more travelers.
Consider reducing the first 5%, give it a couple of weeks, then 10% if that is not working – going as high as 20-30% until you find the sweet spot. In contrast, if you have extremely high occupancy, you may want to bump up your rates because you may be leaving money on the table. If you would like access to a free pricing spreadsheet you can use to perform comparables analysis and set your rates like a pro, subscribe to my newsletter and I will send you a link to the free resources.
Pricing strategy for weekdays vs weekends
Weekday's naturally are going to be lower traffic, most of the time. The action for tourism is usually on the weekends. In my backyard, Orlando, there are tons of weekend warriors who do the Friday check-in checkout on Sunday-Monday thing. If you allow 3 night stays, this is most of what you will get.
Why is this not ideal? 3-night weekend stays may potentially block off your week. If someone cannot book the whole week for a vacation, they may not book with you at all.
If you are allowing 3 night minimums and guests are coming in for just the weekend, this is bad for occupancy. You need to weigh your options here. My recommendation is having a higher nightly rate during weekends with your weekday rate being 10-20% less Monday-Thursday. This is a very similar pricing strategy employed by large brands like Hilton and Marriott.
Make weekday's attractive and fun for your guests
Weekday travel does not have to be boring. Especially when you offer deals and promos. Offer 4 nights for the price of 3 if you can afford it. Being booked during the week by giving a promo is a smart way of not staying empty during slow periods.
If there are events going on during the week, you can temporarily add them to your description. This is a local's edge and requires more planning and updating on your part, but the most active hosts tend to stay booked more.
Leveraging your past guests
Staying in touch actually pays off. Your past guests may amount to 10-20% of your business. By not staying in touch with them you may be leaving money on the table.
Practical strategy to use: always collect emails to stay in touch with past guests. Phone numbers are even better. You can offer them a 'book-direct' discount where you waive Airbnb service fees by booking directly through you. Sweeten the deal by offering a repeat stay discount of 1 free night for every week or 10-20% off the rental rate, whatever you are comfortable with. Remember, the more you offer – the sweeter the deal for your repeat guests.
You can either send promotional texts (remember to offer a way to opt out) or emails with your offer.
Asking your past guests for referrals
Think of friends and family here. Guests know people! You can offer a free night on a future stay for any referrals sent your way by your past guests.
Affiliate programs like this are highly useful in real-time. People love rewards. Airbnb does not offer a loyalty program (as of May 2023). However, that does not mean you can't!
By running my own referral program, I am able to generate an average of 10 more bookings annually. Repeat guests are your greatest cheerleaders and a loudspeaker for your vacation rental property.
Email marketing and your vacation rental
My slow season secret weapon is email markeitng. Email marketing has built hugely successful companies. Some companies only sell newsletters by email and earn millions of dollars in revenue per year…
Leveraging great ideas on your own short term rental venture will reap rewards. On a previous podcast episode, I briefly discussed the value of email marketing for vacation rentals.
How to grow your vacation rental with email marketing:
Start a database for your emails (excel or Google Sheets for cheap, Mailchimp for features)
Create your irresistible offer (1 night free on next stay, 20% off your rental rate if booked by end of month, etc)
Write and proofread your copy (this is the marketing email) see link for examples, include a call to action (CTA) button to book now on your direct booking website or your airbnb link
Send to your list
Respond quickly to interested guests
Ask for the booking, call to action (if having conversation)
A note about irresistible offers: fixed-dollar offers in my experience, work better than percentage discounts. For example, $200 off a one-week booking, sounds very generous (adjust these figures depending on your price point)
From A/B testing percentage discounts vs fixed-dollar discounts, the fixed-dollar ones produce more booking conversions, even though the percentage discounts come out to a greater discount. Weird, huh?
For one of your campaigns, you can generate an outbound campaign that asks, "Hi, John here from Sunset Villa in Orlando. Just wondering if you are going to come back for another trip this year?"
Just asking a simple question can elicit responses from many of your previous guests. You know those emails you get from clothing brands, cosmetic, or fitness companies? Those look way too commercial, you want to come across as personable. In your emails, it should really read like a friend reaching out to a friend and not marketing spam. This will also increase your response rates.
Consider locking unused bedrooms and offering a more affordable booking rate during slow season
Locking unused bedrooms in your airbnb / short term rental works for hosts who are open to 'actively' managing their listings more. My strategy for this is pretty simple. Create more than one listing for each variation of your property. If you have a 4 bedroom property it would be 4 separate listings. 1 for the whole house, 1 for the common areas and 2 bedrooms, and so on… with the less bedrooms used, the more affordable the rate.
This will help you stay booked in slow periods when there are couples traveling or solo travelers who do not need all of the beds, but still want to stay in your vacation rental.
How much cheaper should each listing be? Well that is completely up to you, but it is common to knock about $30 or more off each bedroom you close.
Niche vacation rental websites
There are several niche vacation rental websites you can leverage to your advantage. My little dog Milo (my french bulldog, he is so adorable) loves to go on vacation with me, but many hosts do not allow him to come along. Lucky for me, there is Bringfido.com and they have a pet-friendly vacation rental category. Hosts that allow pets are in a very profitable niche, especially because most guests like myself are willing to pay more for an awesome space that accommodates our furry, four-legged friends.
In addition to BringFido.com, there are several other niche websites that may work for your vacation rental that you can tap into to generate more traffic.
Here is a list of niche vacation rental websites:
Add those extras. Jacuzzis, pools, game rooms, and fun.
Extras do matter. They sell. Yes, they are expensive. However, the price point leads to higher returns over the long-term. A house with a pool attracts more eyes than a vacation rental without one, all else being equal.
The decision maker in the family always thinks, "what is my family going to do for fun at this place anyway?" With air hockey tables or ping pong, the answer to the question is simple. Same with cooking. Grilling is fun, and delicious! In my experience, guests ask me a dozen times a year if my property has a bbq grill.
Extras matter.
No, I am not saying run out and spend money like crazy adding every amenity you can. Plussing the property though, is what a smart short term rental investor does. "Plussing" is when you add amenities and make improvements part of your operating manifesto. You can choose the frequency of renovations, additions, and improvements. With exception to down time due to improvements, those who 'plus' the property more, earn more.
Vacation rental package deal ideas…
Package deals are easy to sell. Airlines do it, cruises do it, and travel sites do it.
I have seen hosts package their home with a Turo rental, so guests have a car to get around.
Airline tickets are also packaged by savvy marketers with direct booking websites. Major attractions or theme parks nearby? Bundle them with your vacation rental and airline tickets to give potential future guests an 'idea' of their future vacation budget.
Formula Example:
Airline ticket + Accommodation (Your Vacation Rental) + Theme Park Tickets = More Profit
Yes, you may need travel agent credentials to book airline tickets, but depending on the type of package you want to offer, you are adding value-add to the booking experience for your guests. Sure, it is much easier to rely on inbound booking from Airbnb and not even deal with this. Your competition may get crafty though, and we are all competing for traffic (even in this age of 'abundance mentality' business is becoming more cutthroat and saturated). Package deals can help you stand out.
Reducing bedrooms by locking rooms to attract budget conscious airbnb guests
So this strategy works really well for the new Airbnb Rooms (Summer Update 2023). There are single travelers or couples who only need 1 bedroom. There are small parties that may only need 2-3 bedrooms when you have a 5 or 6 bedroom rental.
You may be thinking, "why don't they just find an accommodation that works for them…?" Wait, don't you…want more occupancy?
You can attract these travelers by having separate airbnb listings for the same property.
For example, You have a 6 bedroom listing. This listing can be 4-5 listings…
2 bedroom version (lock the other 4 rooms) and make it cheaper
3 bedroom version (lock the other 3 rooms) and make it cheaper
4 bedroom version (lock the other 2 rooms) and make it cheaper
5 bedroom version (lock one room) and make it cheaper
The listing with the least available bedrooms would be the least expensive, with the full home listing being the most expensive. I have leveraged this strategy and it increases your total revenue when bookings are slow. If it's empty, you are losing money. Don't leave money on the table.
Now you are armed with some actionable tools to deploy in the airbnb slow down. Like these tips or have a suggestion? Comment and share. If you would like free Airbnb tips, my daily podcast is brief and to the point. No BS, all actionable stuff. Check it out by clicking below.